Any questions?

contact@mr-expert.com
Do you have a piece by Max Beckmann in your possession and would like to know its value? Our Experts will carry out a free appraisal of your piece, provide you with an estimate of the market price, and then help you to sell at the best possible price.
Quote, price and estimation of the artist Max Beckmann
Price of a painting: 15,000 – 36,400,000 €.
Price of a drawing: 3,400 – 720,000 €.
Estimation of a print: 50 – 60,000 €.
Price of a sculpture: 33,000 – 200,000 €.
If you would like to have a work of art by Max Beckmann appraised, our experts will take care of everything.
Max Beckmann, a dark and tortured artist
Max Beckmann as a German draughtsman and painter born on February 12, 1884 in Germany. In the year of his death he received his first painting prize awarded by the Venice Biennale, an Italian foundation specialising in art.
Max Beckmann is a depressive and pessimistic artist. From the 1915s onwards, he adopted a critical and moral style of society, art and history. His anxieties and worries increased with the rise of Nazism in the 1930s. He was classified as a degenerate painter by the German government and was forced into exile in Holland.
Max Beckmann has also taught in several schools. First in Frankfurt, then in Washington and Brooklyn. He settled permanently in the United States in 1947 and died in New York on 27 December 1950.
Max Beckmann, an artist outside of artistic movements
Max Beckmann trains at the School of Fine Arts in Weimar, Germany. In 1907 he exhibited his first paintings in Berlin and began to make a name for himself. It was in 1915 that he discovered 15th century German engraving.
Anguished by the world around him, Max Beckmann developed his own style outside the famous artistic movements that had existed until then. He works with engraving, drawing and lithography to give his vision of the world around him. The entirety of his work thus conveys the idea of a world considered as a theatre stage in which Men are the actors. However, the artist did not want to be considered as the reporter of these dramatic events, he remained totally withdrawn in his interpretation.
At the beginning of his career, his work had a rather naturalistic aspect. But after the war, his work is characterised by several elements of its own. For example, there are marked contours and emaciated faces.
Max Beckmann, an artist inspired by the tragedies of his life
Max Beckmann is an artist traumatised by the two Great Wars. First, as a soldier he discovers the horror of the battlefield. Then, with the rise of Nazism he experiences the loneliness and precariousness of exile. It is these traumas that would inspire his work.
Among these works is "Artists' Car", a symbol of his exile before the invasion of the Netherlands. Other works include "Birth of Berlin" and "Death of Berlin", an image of the rise of nationalism in Germany.
He also produced a series of religious paintings such as "Descent from the Cross" and "Christ and the Sinner", both of which were sold in 1919.
Recognising Beckmann's signature
Like many artists, Max Beckmann did not sign all of his works. However, you will find below an example of the signatures to give you an idea. Variations of these signatures do exist, do not hesitate to contact one of our experts to formally authenticate a signature.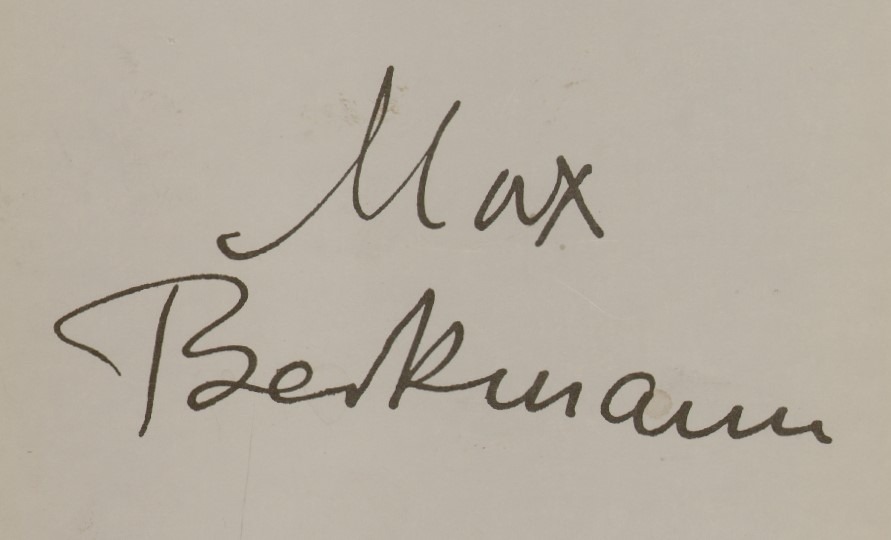 Appraising and selling a piece by Max Beckmann
If you own a piece by Max Beckmann or any other object, ask for a free estimate via our online form.
You will then be contacted by a member of our team of experts and auctioneers to give you an independent view of the market price of your piece. In the context of a possible sale, our specialists will also advise you on the different options available to sell your work at the best price.