Nathalie Gontcharova
1881-1962
Any questions?

contact@mr-expert.com
Do you own a piece by Nathalie Gontcharova and would you like to know more about the work and its value? Our Experts will carry out a free appraisal of your painting, provide you with an estimate of the market price, and help you to sell it at the best price.
Status, estimation and price of the artist Nathalie Gontcharova
Price of a painting: 3,200 – 2,230,000 €.
Price of a drawing: 460 – 29,000 €.
Estimation of a print: 140 – 13,400 €.
The training of Nathalie Gontcharova
Nathalie Gontcharova is a painter and theatre decorator. She was born in the Russian Empire in Tula on 4 June 1881 and died in Paris on 17 October 1962. She became a naturalized French citizen in 1939.
She began to study sculpture in 1901, then gradually abandoned it in favour of painting, to which she devoted herself completely from 1904 onwards, following her meeting with Michel Larionov, also a Russian painter and decorator who would become her companion. In 1906, she took part in the Salon d'Automne where Serge de Diaghilev, protector of artists and organiser of shows, programmed an exhibition of Russian art.
Moving from impressionism to cubism, his style was gradually influenced by the icons and popular images of his country. Soon the theme of religion and peasantry took hold of his work.
Nathalie Gontcharova and neo-primitivism
In 1909 the couple introduced neo-primitivism into the art world in reaction to the predominant French influence. This pictorial movement, which favoured naïve and primitive forms, notably favoured popular imagery and peasant colours. The following year, Nathalie and Michel took part in the first exhibition at Le Valet de Carreau. Following this exhibition, the Valet de Carreau became the name of a Moscow art movement headed by Larionov.
In 1911, Nathalie became interested in Futurism, a movement that became enthusiastic about the modern world and rejected pictorial traditions. She also participates in the creation of Rayonism with her companion and presents her work at the exhibitions of Der Blaue Reiter in Munich, the Galerie Der Sturm in Berlin and the Salon des indépendants in Paris.
Nathalie Gontcharova, a Russian artist attracted by France
The artist left Russia in 1915 and never returned. She settled in Switzerland for two years and then took up residence in Paris in 1918.
In the 1920s, Goncharova became one of the most important painters of Diaghilev's Ballets Russes and worked on the sets for Stravinsky's Noces, among others. She quickly became a regular at Parisian artistic events, particularly the Salon d'Automne, the Tuileries and the Salon des Indépendants.
After the war, the art world almost forgot the artist and his companion. It was during Diaghilev's retrospectives in London in 1954 that they were remembered. Then in 1961, the Art Council of Great Britain organised a major exhibition of the couple's entire oeuvre, followed shortly afterwards by the Musée d'Art Moderne de la Ville de Paris after Nathalie's death.
Recognising Nathalie Gontcharova's signature
Like many artists, Nathalie Gontcharova did not sign all of his works. However, you will find below an example of the signatures to give you an idea. Variations of these signatures do exist, do not hesitate to contact one of our experts to formally authenticate a signature.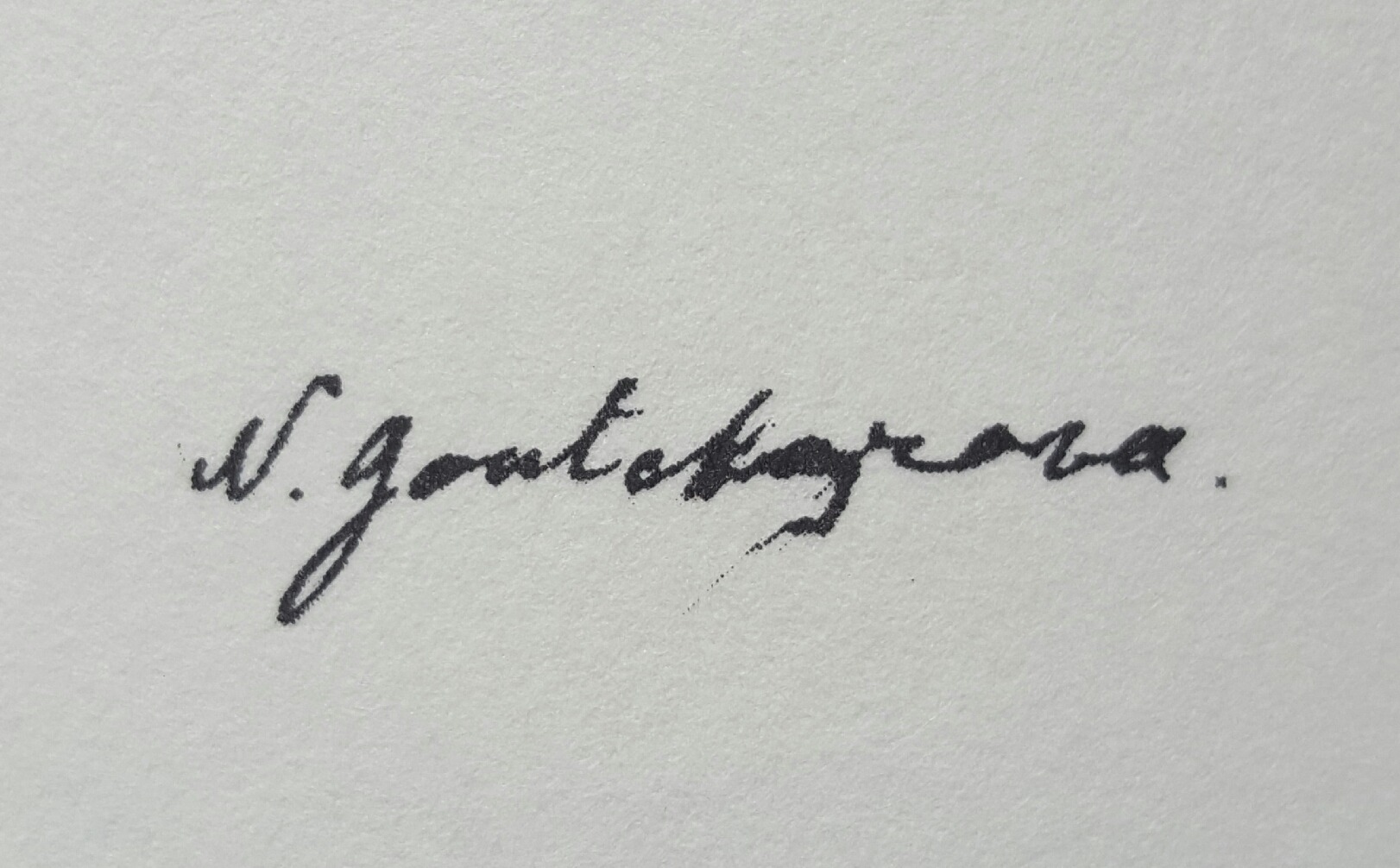 Appraise and sell a painting by Nathalie Gontcharova
If you own a Nathalie Gontcharova painting or any other sculpture, ask for a free estimate via our online form.
You will then be contacted by a member of our team of experts and auctioneers to give you an independent view of the market price of your painting. In the event of a sale, our specialists will also advise you on the various options available to sell your work at the best price.