Any questions?

contact@mr-expert.com
Do you own a piece by Oswaldo Vigas and would you like to know more about the work and its value? Our Experts will carry out a free appraisal of your painting, provide you with an estimate of the market price, and help you to sell it at the best price.
Status, price and estimation of the artist Oswaldo VIGAS
Price of a signed painting at auction: 2,000 – 130 000 €
Estimation of a drawing or a watercolour: 600 – 30,000 €.
If you would like to have a Vigas painting  appraised, our painting experts are at your disposal for a free appraisal.
Oswaldo Vigas, from tradition to modernity
Oswaldo Vigas (1926 – 2014) is an expressionist and surrealist Venezuelan painter and sculptor, considered one of the most important contemporary artists in the country. Before his passion for art took over, he studied medicine at the University of Merida and Caracas (Venezuela).
Recognised as a self-taught artist, his career stretched from the 1940s until his death, between Venezuela and France. In 1941, he produced his first paintings, including the illustration of the Book of Poetry. Two years later, he received the Medal of Honour for his work Feuilles Rouges, as well as the Venezuelan National Plastic Arts Prize in 1952. The same year, he decided to move to Paris, where he met his partner Janine and studied lithography and engraving in parallel with free courses in Art History at the Sorbonne. During this period, he created five mosaic murals that perfectly matched the architecture of the Central University of Venezuela. This work became a UNESCO World Heritage Site in 2000.
After a little over a decade in France, he returned to his native country. With more than a hundred solo or group exhibitions, Oswaldo Vigas is a must in Latin American contemporary art and an artist with superlatives: one of the most prolific Venezuelan artists of his generation, one of the most important contemporary artists in the country .
An artist influenced by his origins as well as by novelty
During his career, he questioned his cultural and historical heritage as a Latin American and its impact on his conception of art, balancing between tradition and modernity. From his earliest works, you will find one of his subjects of prediction that will accompany him throughout his career: witches. His encounters and collaborations with other artists, such as Manuel Cabré, Jean Arp, Alexander Calder or Victor Vasarely, have made his work evolve over the years.
A varied work
After starting his career dedicated to human figures in the 1950s, he turned more towards constructivism and abstraction. His overall work is a combination of paintings, engravings, drawings and sculptures. During the 1970s, he used weaving workshops to give a new form to his works. Then, in the 1980s, he created and exhibited his first bronze sculptures.
Recognising Oswaldo Vigas's signature
Like many artists, Oswaldo Vigas did not sign all of his works. However, you will find below an example of the signatures to give you an idea. Variations of these signatures do exist, do not hesitate to contact one of our experts to formally authenticate a signature.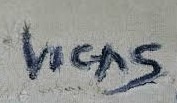 Appraise and sell a painting by Oswaldo Vigas
If you own an Oswaldo Vigas painting or any other sculpture, ask for a free estimate via our online form.
You will then be contacted by a member of our team of experts and auctioneers to give you an independent view of the market price of your painting. In the event of a sale, our specialists will also advise you on the various options available to sell your work at the best price.