Any questions?

contact@mr-expert.com
Do you own a piece by Paul Iribe and would you like to know more about the work and its value? Our Experts will carry out a free appraisal of your painting, provide you with an estimate of the market price, and help you to sell it at the best price.
Status, price and estimation of the artist Paul IRIBE
Price of a piece of furniture signed Iribe: 1,500 – 200,000 €
Artist's status for a print or an engraving: 100 – 1,000€.
Estimate of a drawing or watercolour by the artist for auction: 80 – 2,000€.
If you would like to have a piece of furniture by the artist appraised, our experts are at your disposal for a free appraisal.
The press and the beginnings of an illustrator
Joseph-Paul Iribe was born in Angoulême, France in 1883. His father worked as an editor for the famous magazine Le Temps, which was published daily between 1861 and 1942. Perhaps under the influence of this paternal figure, Iribe launched the first satirical periodical, Le Témoin, whose publications spanned the period from its creation in 1906 to 1910, then resumed between 1933 and 1935. The second version is controversial for its deemed nationalist and xenophobic tone.
His training took place at the Ecole de Beaux Arts and his first works took the form of drawings and caricatures. At the turn of the century, Iribe was not yet twenty years old and his illustrations were already published in what were then very popular humorous magazines: Le Rire, Cocorico.
His first art review Shéhérazade dates back to 1909, he produced it in collaboration with the publisher and playwright François Bernouard and for a few issues under the editorship of Jean Cocteau. His creations were of interest to the fashion press, so he worked in collaboration with the magazine Journal des Dames et des modes published between 1912 and 1914.
This period was also fruitful for Paul Iribe, who was at the origin of the creation of pieces of furniture. His refined taste assured him a place of choice in the world of interior decoration.
An emblematic figure of Art Deco
The trip to the United States was an opportunity for Iribe to discover the world of filmmaking, and after starting out for Paramount Pictures studios, he became artistic director for producer George Fitzmaurice in Hollywood. During this American period, Paul Iribe participated in the making of several films.
It was on his return to France that he immersed himself in his creations in a logic of re-conquest, allowing a style to emerge that was to be emulated after him, the Art Deco style. The Parisian fashion world was fond of this designer with his abundant imagination. He was close to the great seamstress Jeanne Lanvin and to the woman who became his companion in the 1930s, Gabrielle Chanel, founder of the eponymous fashion house.
His activity as a publisher and printer was important, along with the publication of Revue des sports et du monde, with illustrations by Coco Chanel.
Iribe: Illustrated figure of the Parisian scene
From the press to Parisian fashion, Iribe set himself apart for his varied talents and limitless creative potential.
Paul Iribe's imaginative style was resolutely new, it was diffused by the works he illustrated. His compositions highlight a resolutely distinct form, in which elegant female figures appear.
He died suddenly in the villa of his last fiancée, Coco Chanel, in 1935.
Recognising Paul Iribe's signature
Like many artists, Paul Iribe did not sign all of his works. However, you will find below an example of the signatures to give you an idea. Variations of these signatures do exist, do not hesitate to contact one of our experts to formally authenticate a signature.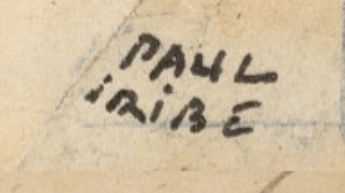 Appraise and sell a painting by Paul Iribe
If you own a Paul Iribe painting or any other sculpture, ask for a free estimate via our online form.
You will then be contacted by a member of our team of experts and auctioneers to give you an independent view of the market price of your painting. In the event of a sale, our specialists will also advise you on the various options available to sell your work at the best price.