Any questions?

contact@mr-expert.com
Do you own any Pierre Alechinsky's artwork? Are you curious to know what they are worth? Our Experts can provide a free appraisal to give you an estimate of the market price, then help you to ensure the best possible price should you decide to sell.
Value, estimation and price of the artist Pierre Alechinsky
Price of a painting:  800 – 200,000 €.
Price of a drawing: 400 – 50,000 €.
Price of a print: 32 – 5,500 €.
Price of a sculpture: 2,500 – 17,000 €.
If you would like to have a work by Pierre Alecinsky appraised, our experts will take care of everything.
Painter Pierre Alechinsky
Pierre Alechinsky is a painter and engraver born in Brussels (Belgium) on 19 October 1927, to a Russian Jewish father and a Belgian (Walloon) mother. This left-handed artist studied in the 1930s at the Decroly School in Brussels where he was forced to write with his right hand. From 1944, he studied photography techniques, typography and book illustration at the École Nationale Supérieure d'Architecture et des Arts Visuels de la Cambre (Brussels).
It was at this time that he discovered the works of Jean Dubuffet and the Surrealists. He really threw himself into painting in 1947 and joined the Jeune Peinture belge group, where he met Marc Mendelsson, Jan Cox and Louis Van Lint. After the Second World War, the painter became a major player in the Belgian artistic world. With Olivier Strebelle and Michel Olyff, he founded the Ateliers du Marais and joined the CoBra movement (which brought together artists from Copenhagen, Brussels and Amsterdam) advocating a return to bold and aggressive art. Later, he moved to Paris where he deepened his training as an engraver and at the same time rubbed shoulders with the world of surrealism. From this brief presentation, it is possible to make an estimation of Pierre Alechinsky's painting.
The influences of the artist Pierre Alechinsky
The Chinese painter Walasse Ting, whom Alechinsky met in 1954, had a great influence on the artist. Alechinsky would thus gradually abandon oil for softer materials, such as ink. Oriental calligraphy fascinated him. The artist's style and spontaneity attracted and even pushed him to make a film on Japanese calligraphy. With the support of the Galerie de France, he travelled regularly to New York in the early 1960s.
He became familiar with the technique of acrylic painting. Further influenced also by surrealism, in 1965 he created his most famous work, inspired by the world of comics: he painted Central Park, the work with which he inaugurates the "marginal comments painting". After having completed numerous quality artworks, he was made a Knight of the Legion of Honour in 2006. In 2018, he also won the Praemium Imperale prize from the Japanese Fine Arts Association.
The main works of the artist Pierre Alechinsky
Pierre Alechinsky is the creator of paintings, but also of monographs and books in collaboration with Michel Butor, Emil Coran and Marcel Proust. Assessing Pierre Alechinsky and his painting can therefore also be established on the basis of his production. He participated in exhibitions, such as those organised by the Musée d'art moderne de la ville de Paris (February 1974), the Centre de la Gravure de la Louvière de Belgique (April 2000) or the Centre d'Art Graphique de Métairie Bruyère (2013).
In terms of canvases, we have Central Park, an acrylic painting on camouflaged paper measuring 162 x 193, the Dark Cup exhibited at the Ludwig Museum in Cologne, Le Loup (Evreux Museum) and the frescoes in the rotunda that link the Palais Bourbon and the Galerie des Fêtes to the National Assembly. The prints, engravings, frescoes and lithographs by the Russian painter have dimensions and estimates based on 6293 auctions. The most recent, a multiple print was sold this year (2018).
Recognising Pierre Alechinsky's signature
Like many artists, Pierre Alechinsky did not sign all of his works. However, you will find below an example of the signatures to give you an idea. Variations of these signatures do exist, do not hesitate to contact one of our experts to formally authenticate a signature.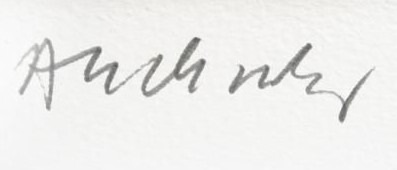 Appraising and selling a Alechinsky's artwork
If you own a Pierre Alechinsky's artwork, use our online form for a free appraisal.
You will then be contacted by a member of our team of experts and auctioneers to give you an independent opinion of the market price. Should you wish to sell your painting or any other artwork, our specialists will also advise you on the various options available for selling at the best price.