Pierre Eugène MONTEZIN
1874-1946
Any questions?

contact@mr-expert.com
Do you own a piece by Paul Eugène Montezin and would you like to know more about the work and its value? Our Experts will carry out a free appraisal of your painting, provide you with an estimate of the market price, and help you to sell it at the best price.
Status, price and estimation of the artist Pierre Eugène MONTEZIN
Price of a painting signed Montezin: 2,000 – 50,000€.
Estimate of a drawing or watercolour by the artist for auction: 100 – 1 500€.
If you would like to have a painting by the artist appraised, our experts are at your disposal for a free appraisal.
Who is Pierre Eugène MONTEZIN?
Paul Eugène Montezin (1874-1946) was a French post-impressionist painter. Through his father, who was a renowned draftsman, he was interested in art from an early age.
At the age of 17, he joined a decorator's workshop, where he created flower panels and ornaments. However, he is considered to be self-taught and visionary with an art, which generally departs from the norms dictated by the academic vision of the time.
His formidable sense of observation quickly positioned him as an excellent landscape artist. Nevertheless, the Salon des Artistes français refused him the right to exhibit his works for 10 years. He finally managed to do so in 1903, a few years later, he was awarded a series of prizes for his works, such as the Prix Rose Bonheur. In 1914, war broke out and Montezin went to fight at the front.
Despite everything, the war did not prevent him from continuing to paint and from 1919 he decided to make a living from his art. His works began to sell, allowing him to build his house with a studio, where he would work until the end of his life. In 1923, he became a Knight of the Legion of Honour, then in 1932, he received the Medal of Honour from the Salon des Artistes Français, a major event for a landscape painter.
Recognition continues to fall when he becomes Officer of the Legion of Honour and President of the Jury of French Artists.
In the 1930s, he settled for a while in Brittany, then in Venice where he took the opportunity to discover Italy. During the Second World War, he went to live in Creuse with his family, a particularly productive period for the artist.
In 1941, he also became a member of the Institut de France at the Academy of Fine Arts, in armchair no. 1. He died suddenly at the age of 70 during a trip to Brittany.
Nature at the epicentre of his art
The artist was always passionate about nature. His childhood walks with his father left a lasting impression on him, as can be seen in his work. He particularly admires the beauty and diversity of nature. This influence, combined with admiration for Impressionism and Monet, led the artist from the very beginning to landscape painting. During this same period, in contact with Quost, he perfected his technique.
A prolific artist
Despite a complicated start to his career, with in particular the constant refusals of the Salon des Artistes Français, recognition arrived for Montezin in the 1910s. He won several prizes and his talent was not questioned afterwards. Over the course of his career, the artist created a large number of works, becoming a particularly prolific artist.
In 1933, Galerie Charpentier organized an exhibition of the artist's 237 canvases, all of which were completed in 5 years.
In 1938, he presented a series of paintings at the Galerie Durant-Ruel on the theme " La life in Paris, life at Nice " with 17 paintings representing the first city and 23 for the second. Like a Monet, he seeks to transcribe the vibrant lights and colours offered by nature. This is how, through strong impasto and quick strokes, movement and life are so present in his work.
Recognising Paul Eugène Montezin's signature
Like many artists, Paul Eugène Montezin did not sign all of his works. However, you will find below an example of the signatures to give you an idea. Variations of these signatures do exist, do not hesitate to contact one of our experts to formally authenticate a signature.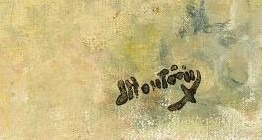 Appraise and sell a painting by Paul Eugène Montezin
If you own a Paul Eugène Montezin painting or any other sculpture, ask for a free estimate via our online form.
You will then be contacted by a member of our team of experts and auctioneers to give you an independent view of the market price of your painting. In the event of a sale, our specialists will also advise you on the various options available to sell your work at the best price.