Any questions?

contact@mr-expert.com
Do you have a piece by Reuben Rubin in your possession and would like to know its value? Our Experts will carry out a free appraisal of your piece, provide you with an estimate of the market price, and then help you to sell at the best possible price.
Quote, price and estimation by artist Reuven Rubin
Price of a painting: 4,300 – 232 400 €.
Price of a drawing: 180 – 77 600 €.
Estimation of a print: 40 – 800 €.
Price of a sculpture: 4,200 – 19,500 €.
If you would like to have a work by Reuben Rubin appraised, our experts will take care of everything.
The journey of Reuben Rubin
Reuben Rubin was a Romanian Jewish painter born in 1893. He is the first Israeli ambassador to Romania. His real name is Rubin Zelicovici. He was born in the city of Galati to a poor Hasidic Jewish family. He is the eighth in a line of thirteen children. In 1912, he managed to join the Bezalel Academy of Art and Design in Jerusalem. However, he left the institution a year later in order to join the École Nationale Supérieure des Beaux Arts in Paris in 1913. During WWI, he returned to live in Romania. He travelled to the United States in 1921 with his artist friend Arthur Kolnik and they both met Alfred Stieglitz who organised their first American exhibition.
The history of Jewish art and creation of the Eretz-Yisrael style
The history of Jewish art begins with the Cezannian rebellion against the artistic conventions of the past, a period characterised by rapid stylistic changes. This art, which stemmed from Jewish pictorial tradition, did not yet have a fixed art history or canon to follow, which created an opportune moment for Rubin and his career. The landscapes he painted in the 1920s are characterised by a style that is naïve and modern at the same time, portraying the landscapes and people of Israel with a certain sensitivity, paying particular attention to spiritual and translucent light. Rubin took part in the foundation of the new Eretz-Yisrael style in Palestine. The recurring themes of his paintings are biblical landscapes, folklore and the Yemeni, Hasidic and Arab populations. Many of his paintings depict Jerusalem and Galilee. His style was undoubtedly nourished by several influences, such as Henri Rousseau and neo-Byzantine art. He signed his paintings with his Hebrew last name and first name and Roman letters.
A pioneering and renowned artist
He was the first artist in 1924 to have an exhibition dedicated to the Tower of David in Jerusalem. That same year he was appointed head of the chair of the Association of Painters and Sculptors of Palestine. In the 1930s, Rubin created sets for the Habima Theatre, the Ohel Theatre and others. His autobiography entitled My Life – My Art was published in 1969. Rubin died in Tel Aviv in 1974 after bequeathing his house and some of his works to the city of Tel Aviv. A museum dedicated to his work, the Rubin Museum, opened in 1983; his daughter-in-law, Carmela Rubin, is the director and curator. His works are now extremely popular.
Recognising Reuben Rubin's signature
Like many artists, Reuben Rubin did not sign all of his works. However, you will find below an example of the signatures to give you an idea. Variations of these signatures do exist, do not hesitate to contact one of our experts to formally authenticate a signature.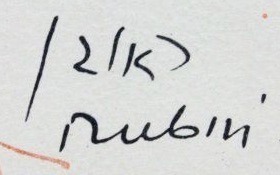 Appraising and selling a piece by Reuben Rubin
If you own a piece by Reuben Rubin or any other object, ask for a free estimate via our online form.
You will then be contacted by a member of our team of experts and auctioneers to give you an independent view of the market price of your piece. In the context of a possible sale, our specialists will also advise you on the different options available to sell your work at the best price.