Any questions?

contact@mr-expert.com
Do you own a work by Robert Indiana and would you like to know more about its value? Our Experts will carry out a free appraisal of your painting, to provide you with an estimate of the market price, then assist you to sell at the best price.
Status, price and estimation by artist Robert Indiana
Price of a painting: 120 – 2,500,000 €.
Estimation of a drawing: 1,100 – 17 200 €.
Estimation of a print: 80 – 5,500 €.
Estimation of a sculpture: 125 – 1,300,000 €.
Price of a tapestry: 24 – 21,600 €.
If you would like to have a work by Robert Indiana appraised, our experts will take care of everything.
Robert Clark, semiologist artist
Robert Indiana was born in 1928 in Indiana in the United States. His particularity is to claim semiology and attachment to symbols in his work: "I am an American sign painter". The iconography of the works he creates can be identified with that of pop art, but also with the Hard-edge, an American current of abstract, cold and geometric representation.
He studied at the Art Institute of Chicago between 1950 and 1954 and then lived in New York where he joined a group of painters who are also famous today, such as Ellsworth Kelly or Agnes Martin, who settled in the south of Manhattan, in Coenties Slip near the docks. The materials that he used, or rather that he reused at that time to create his works are residues of what was used for the construction of his studio, mixed with scrap metal that he found on site, such as the stencils used to inscribe the logos of construction companies. He reuses these signs, which in his eyes represent the image and symbolism of the local history (Melville, 1961) of the places where he finds them.
Love and pop art
Indiana was inspired by the American painter Charles Demuth in the way he composed his works, making them take the form of a target, painted in bright colours and representing various symbols, such as numbers or words referring to the American dream: The american dream, 1960). The most famous of his compositions, Love, created in 1967, was popularised thanks to the fact that it was used to advertise Erich Segal's famous novel Love Story in 1970.
Indiana has also made films in his career as an actor in Andy Warhol's film Eat. For like the latter, the painter used the images provided by advertising and pop culture as a reference: "I am one of the young painters who have turned to trivial sources: Coca-Cola, sodas, supermarkets, motorway signs. They are eager to look. They pop". However, he does not rule out the influence of abstract painting in the 1950s on his artistic practice either.
An artist close to the history of his nation
In 1978, Indiana decided to move to an island in Maine Vinalhaven, which he liked and which inspired many of his paintings.
He also produced a series of paintings following the September 11th attacks in the United States, Peace Paintings, exhibited in 2004 in New York. Always in touch with the history of his country, he sided with Barack Obama during the 2008 elections and created Hope, using the graphic design of Love, which is identifiable and appreciated by Americans.
Recognising Robert Indiana's signature
Like many artists, Robert Indiana did not sign all of his works. However, you will find below an example of a signature in order to give you a first idea. Variations of this signature exist: do not hesitate to contact one of our experts to authenticate a signature in a formal way.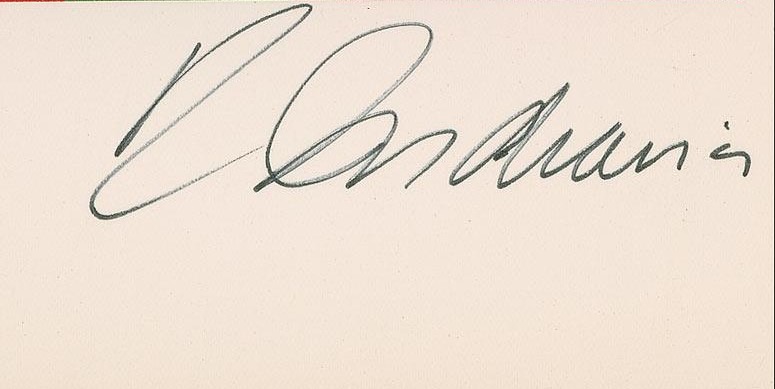 Appraising and selling a painting by Robert Indiana
If you own a painting or any other sculpture by Robert Indiana, ask for a free estimate via our online form.
You will then be contacted by a member of our team of experts and auctioneers to give you an independent view of the market price of your painting. In the event of a sale, our specialists will also advise you on the various options available to sell your work at the best price.