Any questions?

contact@mr-expert.com
Do you own a work by Sam Francis and would you like to know more about its value? Our Experts will carry out a free appraisal of your painting, to provide you with an estimate of the market price, then assist you to sell at the best price.
Status, price and estimation of the artist Sam Francis
Price of a painting: 3,600 – 2 900,000 €.
artist's status for a drawing: 4,800 – 911,200 €.
Average estimate of a print: 130 – 19 400 €.
average price of a sculpture: 100 – 500 €.
Estimate of a tapestry: 2,300 – 7,100 €.
Estimation of a piece of art: 100 – 610 €.
If you would like to have a Sam Francis work appraised, our experts will take care of everything.
Sam Francis' career path
Sam Francis was born in 1923 in California. In his youth, he was interested in literature (Blake, Pound, Shakespeare), botany, which he studied at the University of Berkeley from 1941 to 1943, then studied medicine and psychology, which allowed him to discover Carl Jung's theories.
From 1943, Francis was a pilot in the US Air Force.
He began painting following a spinal injury that forced him to remain in bed for almost three years. He took lessons from his friend and teacher at the California School of Fine Arts, David Park. His first exhibition is held on the occasion of the sixty-sixth annual exhibition of the San Francisco Art Association. In 1947, he completed his convalescence period in a community of painters with whom he painted his first abstract canvas. He returned to study art history the following year, again at Berkeley, from where he graduated with a master's degree in 1950. That same year he decided to move to Paris. There he met several other American artists and began the series of his white paintings.
In 1952, thanks to the art critic Michel Tapié, he took part in the exhibition Signifiant de l'informel, bringing together artists known as "Tachistes". During this period, the colours of his canvases became richer and more vivid than before.
Tendances actuelles 3, his first group exhibition allows him to be exhibited alongside artists such as Mathieu, Pollock and Riopelle.
Constant work on form
Francis Sam's painting is remarkable for the spirituality that emerges from it. At the beginning of his practice, he was influenced by figures such as Mark Rothko or Clifford Still, spiritual painters if ever there was one, but who gave their work a concrete dimension in addition to the optical qualities of their paintings. Nevertheless, his early works show an attraction for pictorial materiality and coloured fields. His taste for ethereal, diaphanous forms is also the result of his relentless formal work and of working with the pictorial material itself, its support and its trace.
Discovery of the Orient
In 1957 and 1958, he travelled the world, discovering oriental art and culture which enriched his work and his life.
He begins his Sail Paintings, in which the white space in the centre of the painting is framed by pictorial compositions spread over the edges of the canvas. He also painted his Mandala Paintings in the 1970s in connection with psychoanalysis and alchemy as well as Grid-Paintings. Francis
has tried his hand at all mediums with talent. His paintings are a place of tension and reconciliation between body and matter, emptiness and fullness which also appeals to oriental culture.
Recognising Sam Francis's signature
Like many artists, Sam Francis did not sign all of his works. However, you will find below an example of a signature in order to give you a first idea. Variations of this signature exist: do not hesitate to contact one of our experts to authenticate a signature in a formal way.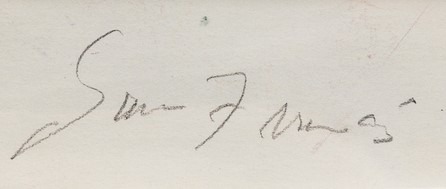 Appraising and selling a painting by Sam Francis
If you own a painting or any other sculpture by Sam Francis, ask for a free estimate via our online form.
You will then be contacted by a member of our team of experts and auctioneers to give you an independent view of the market price of your painting. In the event of a sale, our specialists will also advise you on the various options available to sell your work at the best price.