Any questions?

contact@mr-expert.com
Do you have a piece by Sam Szafran in your possession and would like to know its value? Our Experts will carry out a free appraisal of your piece, provide you with an estimate of the market price, and then help you to sell at the best possible price.
Quote, price and estimation of the artist Sam Szafran
Price of a painting: 1 700 – 10,000 €.
Estimate of a drawing: 350 – 3 300
Estimation of a print: 120 – 12,000 €.
Price of a sculpture: 700 – 1 900 €.
If you would like to have a work by Sam Szafran appraised, our experts will take care of everything.
Samuel Berger, a childhood marked by the Second World War
Sam Szafran (real name Samuel Berger) was a French painter born in 1934 in Paris, he died in 2019 in Malakoff. Coming from an emigrant Jewish and Polish family, he lived the first years of his childhood in the Halles district of Paris at 158 rue Saint-Martin in the third arrondissement. During the Second World War, Szafran managed to escape the 1942 round-up of the Vélodrome d'Hiver, also known as "Rafle du Vél'd'Hiv".
He went into hiding in various places in the Loiret, then later in a Spanish republican family. He was finally deported to the Drancy camp at the age of ten and was freed by American soldiers. Unfortunately, this was not the case for most of his family who died in the Nazi concentration camps. At the same time, in 1944, Samuel was sent to Switzerland by the Red Cross, where the Halberstadt family agreed to take him in. Two years later, he moved to an uncle's house with his mother and sister, who were also survivors.
Between realism and abstraction
It was in 1951, on his return to France as a self-taught man, that he decided to take evening classes in Parisian schools, while going through a period of great precariousness. From 1953 onwards, he studied for five years at the Académie de la Grande Chaumière under the guidance of Henri Goetz. During his Parisian peregrinations to Montparnasse and Saint-Germain-des-Prés, he met many artists such as Nicolas de Staël, Yves Klein, Jean Tinguely and Roseline Granet. Enriched by the influence of works such as those of Kurt Schwitters and his collages or those of Dubuffet, Szafran created his own abstract works.
He later returned to create the first of his Choux series. In 1960, he was offered a box of pastels, the use of which had a radical impact on the artist's work and restored the medium to its former glory. Four years later, he met Alberto Giacometti who became his master. From the 1970s onwards, his work focused on three themes in particular, the Workshops, the Printing Works and the Staircases. He was also a member of the group Panique for a time in 1972 and became friends with Henri Cartier Bresson. After two retrospectives in Switzerland and Paris in 1999 and 2001, and two more in 2010, he inaugurated the Sam Szafran Room in the eponymous pavilion at the Pierre Gianadda Foundation in Martigny in 2015. In 2013, Frédéric Mitterand promoted him to Commandeur de l'ordre des Arts et des Lettres.
Recognising Sam Szafran's signature
Like many artists, Sam Szafran did not sign all of his works. However, you will find below an example of the signatures to give you an idea. Variations of these signatures do exist, do not hesitate to contact one of our experts to formally authenticate a signature.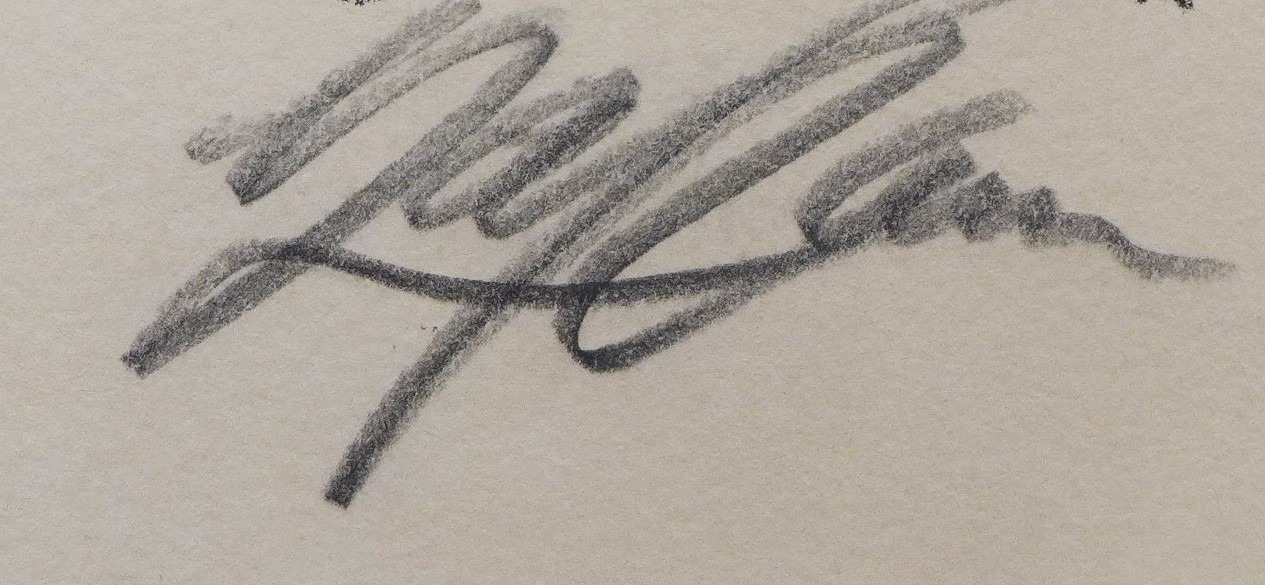 Appraising and selling a piece by Sam Szafran
If you own a piece by Sam Szafran or any other object, ask for a free estimate via our online form.
You will then be contacted by a member of our team of experts and auctioneers to give you an independent view of the market price of your piece. In the context of a possible sale, our specialists will also advise you on the different options available to sell your work at the best price.