Any questions?

contact@mr-expert.com
Do you own a piece by Auguste Macke and would you like to know more about the work and its value? Our Experts will carry out a free appraisal of your painting, provide you with an estimate of the market price, and help you to sell it at the best price.
Status, price and estimation of the artist August MACKE
Price of a painting signed Macke: 6,000 – 1 500,000€.
Estimate of a drawing or watercolour by the artist for auction: 4,000 – 70,000€.
If you would like to have a painting by the artist appraised, our experts are at your disposal for a free appraisal.
Painting as a vocation
Auguste Macke was a German painter, who was born in 1887 in Meschede and died in 1914 in Perthes-lès-Hurlus.
His first years of apprenticeship were between 1897 and 1900 at the Gymnasium in Bonn. The young man showed little interest in his studies at that time, as he was so obsessed with painting, which was then practised as a hobby by his father.
In 1904 he finally began studying art at the Royal Academy of Art in Düsseldorf. He was soon critical of his school's pedagogy, which was considered too academic, and left the school in 1906, preferring to attend the Düsseldorf School of Applied Arts.
An "anti-academy" education
In 1906 he undertook several trips, first to Italy and then to France where he discovered Impressionism, which he immediately adopted, so much was he seduced by the modernity of this movement. August Macke then changed his perception of life and art and began, on his return to Bonn, to produce canvases that he painted in the open air.
In 1910, he began to frequent Franz Marc and other artists who would soon form the group Le Cavalier Bleu. The group corresponded to August Macke's ideology, as it was firmly opposed to academism and innovated by proposing a more abstract perception of the world, which was above all through the expression of colours.
In 1913, August Macke left Le Cavalier Bleu which, under the instruction of Kandinsky, proposed an overly intellectualised vision of art. Our artist then returned to a simpler and more direct contemplation of nature, the expressionist influence still being very present in his works.
Painting man and nature
Indeed, August Macke's work is mainly influenced by French Impressionism, by Cézanne, but also by the work of Fauvist painters such as André Derain, Maurice de Vlaminck, Raoul Dufy or Kees van Dongen. Works such as Self-Portrait with Hat or The Walkers, both painted in 1913, the most prolific year of the painter's career, bear witness to this.
The artist's favourite subjects were Man and Nature, as Spaziergänger, sold for 1,357,978€ (Christie's, London, 19 June 2019) or Badende Frauen, estimated at 1,800,000€ by Christie's Paris for the sale on 10-11 December 2019. One of the artist's sales records is 4,624,146€ (Christie's London, 21 June 2011) for the 1914 work Im Bazaar.
Macke was mobilised on 8 August 1914 and died on the front a month later at the age of 27.
Recognising Auguste Macke's signature
Like many artists, Auguste Macke did not sign all of his works. However, you will find below an example of the signatures to give you an idea. Variations of these signatures do exist, do not hesitate to contact one of our experts to formally authenticate a signature.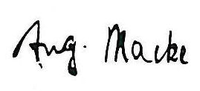 Appraise and sell a painting by Auguste Macke
If you own an Auguste Macke painting or any other sculpture, ask for a free estimate via our online form.
You will then be contacted by a member of our team of experts and auctioneers to give you an independent view of the market price of your painting. In the event of a sale, our specialists will also advise you on the various options available to sell your work at the best price.