Any questions?

contact@mr-expert.com
Do you have a piece by Balthus in your possession and would like to know its value? Our Experts will carry out a free appraisal of your piece, provide you with an estimate of the market price, and then help you to sell at the best possible price.
Status, estimation and price of the artist Balthus
Price of a painting: 15,000 – 500,000 €.
Average estimate for a drawing: 2,100 – 34,000 €.
Selling price of a print: 100 – 900 €.
Ask one of our experts for an estimate of your painting signed Balthus.
A controversial artist
Balthasar Klossowski de Rola, known as Balthus, was born in Paris on 29 February 1908 and died in Rossinière, Switzerland on 18 February 2001. His family fled to Switzerland during the First World War because of their Polish origins. His parents separated and he lived with his brother at his mother's house near Geneva.
His work was not very prolific, there are about three hundred works in total. Balthus remained a figurative artist, whereas abstract art was in vogue at the time. He mainly depicted young women in suggestive positions. Such creations were sometimes created over several years. Balthus is the initiator of many controversies. In 2017, a petition demanded that the Metropolitan Museum of Art in New York remove the canvas "Thérèse Dreming" which was deemed to be too provocative.
At the age of fourteen, Balthasar Klossowski de Rola published his first book of drawings entitled  "Mitsou" which he signed with his nickname "Balthusz". This nickname later turned into Baltus and then Balthus. At a very young age, thanks to his mother and her companion, he met the painters Pierre Bonnard, Maurice Denis and André Gide.
In 1924, the artist moved to Paris and followed the teaching of Maurice de Vlaminck and Pierre Bonnard. He made copies in the Louvre at first and will took a trip to Italy to study the painters of the Renaissance.
The representation of women, a passion
In the 1930s, Balthus came into contact with the surrealist movement through Pierre Loeb, but he did not recognise himself in this movement.
In 1934, he exhibited a series of drawings of women in suggestive positions, his favourite theme.
Balthus had Isabel Rawsthorne as his model for several of his designs, including "La Toilette" and the "Jeune fille en costume d'Amazone".
During the Second World War, Balthus was mobilised, but afterwards he would succeed in settling in Switzerland where he made "Les beaux jours" in 1946. He returned to Paris that same year. He created several sets for plays, including "L'état de siège" by Camus. In 1961, he was appointed director of the French Academy in Rome. Setsuko Ideta, a student he was in love with, joined him and she was to be the model for several creations, including "Chambre Turque". In 1977, he resigned and left to live at La Rossinière where he would end his life.
Recognising Balthus's signature
Like many artists, Balthus did not sign all of his works. However, you will find below an example of the signatures to give you an idea. Variations of these signatures do exist, do not hesitate to contact one of our experts to formally authenticate a signature.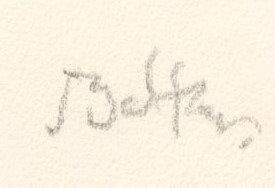 Appraising and selling a piece by Balthus
If you own a piece by Balthus or any other object, ask for a free estimate via our online form.
You will then be contacted by a member of our team of experts and auctioneers to give you an independent view of the market price of your piece. In the context of a possible sale, our specialists will also advise you on the different options available to sell your work at the best price.