Camille Claudel
1864-1943
Any questions?

contact@mr-expert.com
Do you have a piece by Camille Claudel in your possession and would like to know its value? Our Experts will carry out a free appraisal of your piece, provide you with an estimate of the market price, and then help you to sell at the best possible price.
Quote, estimation and price of the artist Camille Claudel
Estimate of a sculpture by Camille Claudel: 7,300 – 1,000,000 €.
Average selling price of a drawing: 90,000 €.
Sculpture and Auguste Rodin
Camille Claudel was a French sculptor and painter. She was born on 8 December 1864 in Fere-en-Tardenois in the Aisne region and died on 19 October 1943 in Montdevergues in the Vaucluse region. Claudel was the muse and mistress of the famous sculptor Auguste Rodin. She had her own dazzling career, which came to an abrupt stop due to a psychiatric internment and an almost anonymous death. Her work was similar to the Art Nouveau movement with its curves and meanders.
At a very young age, from adolescence, Camille Claudel was interested in sculpture and began to work with clay. In 1882, her family moved to Paris so that the young artist could perfect her art. She studied at the Colarossi Academy and rented a studio where various sculptors joined her, including Jessie Lipscomb. The same year, Claudel took courses run by sculptor Alfred Boucher. Boucher had to leave and asked his friend Auguste Rodin to replace him. Rodin was impressed by Claudel's early works and in 1884, invited her to join his group of sculptors.
The young woman soon became Auguste Rodin's muse, inspiring him to create works such as The Kiss, which they both worked on.
The two sculptors were lovers for more than 10 years, but Auguste Rodin did not leave his partner and former model Rose Beuret, which led to Claudel growing angry and jealous.
Emancipation and madness
From 1882 to 1905, Claudel created numerous busts representing her relatives, such as her brother, her sister and Auguste Rodin. In 1886, she created La Jeune Fille à la gerbe, a sculpture that was declared a national treasure in 2003. She gifted her masterpiece La Valse to Claude Debussy, who kept the sculpture in his study. There are rumours that the musician and the sculptor were lovers, but nothing was ever confirmed.
Auguste Rodin and Camille Claudel separated in 1892 after 10 years of love and two illegitimate children.
In 1893, she went to Chicago with the delegation of French women artists to the Universal Exhibition. From 1893 to 1905, Claudel tried to assert herself in her work and to emancipate herself from Rodin's influence as seen in her works La Vague and Les Causeuses. From 1905, the sculptor was gripped by obsessions and paranoia and was interned in 1913 for about thirty years following a crisis during which she destroyed her works.
The bronze coin L'Abandon (1886) was sold for €1.2 million in March 2017.
Recognising C. Claudel's signature
Like many artists, Camille Claudel did not sign all of his works. However, you will find below an example of the signatures to give you an idea. Variations of these signatures do exist, do not hesitate to contact one of our experts to formally authenticate a signature.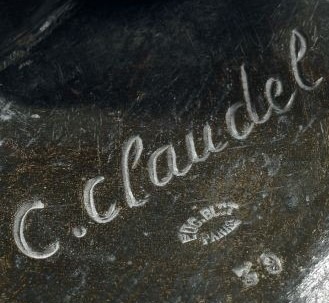 Appraising and selling a piece by Camille Claudel
If you own a piece by Camille Claudel or any other object, ask for a free estimate via our online form.
You will then be contacted by a member of our team of experts and auctioneers to give you an independent view of the market price of your piece. In the context of a possible sale, our specialists will also advise you on the different options available to sell your work at the best price.