Any questions?

contact@mr-expert.com
Do you own any Emile Gallé's artwork? Are you curious to know what they are worth? Our Experts can provide a free appraisal to give you an estimate of the market price, then help you to ensure the best possible price should you decide to sell.
Value, estimation and price of the artist Emile Gallé
Price of an object by the artist: 250 – 7 500€.
Price of the artist's furniture: 310 – 7,000€.
Estimated cost of a light fitting: 300 – 3 400€.
Sculpture estimate: 550 – 2 700 €.
If you would like to have a work by Emile Gallé appraised, our experts will take care of everything.
Glass artist Emile Gallé
Born and died in Nancy (France) on 4 May 1846 and 23 September 1904, Emile Gallé is one of the greatest figures of the applied arts and Art Nouveau. This French ceramist, cabinetmaker and glassmaker, with an eclectic background, was the son of the painter specialising in the art of email, Charles Gallé. After his secondary school studies (in Nancy), he learns the glassmaking trade in Meisenthal and the ceramics and earthenware industry in Saint-Clément.
After 4 years spent in Germany, where he learnt glass chemistry, he returned to France in 1870 and composed with Victor Prouvé a service of rustic crockery. Our artist voluntarily joined the army and took part in the Franco-German war. In 1871, he leaves for London and works at the Kensington Museum and the Royal Botanical Gardens of Kew. In 1877, he settled permanently in his home town and devoted himself to the study of ancient crystals and the production of works that imitate nature (reflections, streaks, shadows, marbling).
He perpetuates his father's work and truly dedicates himself to the modelling of glass in the production of works. With the help of craftsmen, he built glass and earthenware workshops and opened several counters for the exhibition of his works, which made it possible to estimate Emile Gallé pâte de verre.
The influences of master glassmaker Emile Gallé
Emile Gallé was first influenced by his father's work. He took over his father's glass and ceramics factory in 1877. The art of enamels is therefore at the centre of his work. He was also influenced by oriental art through various figures of his time: the Japanese art of Eugène Rousseau and the work of Philippe-Joseph Brocard, particularly on glass vases made of Chinese materials, which strongly inspired him. Considered in his time as the most astonishing of glass artists, his style was refined thanks to the Art Nouveau movement, which he contributed to the influence of the movement. There is no shortage of opportunities to enrich his creations. On the occasion of the International Exhibition in Paris in 1878, he will be fascinated by the work of some of his contemporaries.
The works of the ceramist
Emile Gallé's ceramics, jewellery, furniture, lamps, vases and other glass works are generally made in two or three layers of moulded and engraved glass, his objects are very popular throughout the world. His works depict landscapes, flowers, strawberries, cherry trees and small birds in the foliage. The works of art of the man with the star signature are sought after by collectors around the world and are often very expensive.
The best known are the "Soup tureen made of Raon-l'Etape earthenware" (Musée pierre-Noel) and the "Anthropomorphic earthenware" (Musée d'Orsay), the "Flambe d'eau", sold in Paris in 2008 for the sum of 182170 euros and the Rhododendron (a 1925 lamp), sold in New York for 140,404€ in 2007. In terms of estimates, the price of the Gallé vases varies between 15,000 and 3,000,000€ and the price of the lamps can be negotiated between 5000 and 10,000€.
Recognising Emile Gallé's signature
Like many artists, Gallé did not sign all of his works. However, you will find below an example of the signatures to give you an idea. Variations of these signatures do exist, do not hesitate to contact one of our experts to formally authenticate a signature.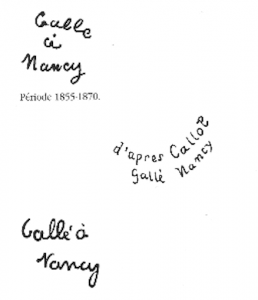 Appraising and selling a Gallé's artwork
If you own an Emile Gallé's artwork, use our online form for a free appraisal.
You will then be contacted by a member of our team of experts and auctioneers to give you an independent opinion of the market price. Should you wish to sell your furniture or any other artwork, our specialists will also advise you on the various options available for selling at the best price.