François Boucher
1703-1770
Any questions?

contact@mr-expert.com
Do you have a piece by François Boucher in your possession and would like to know its value? Our Experts will carry out a free appraisal of your piece, provide you with an estimate of the market price, and then help you to sell at the best possible price.
Status, price and estimation of the artist François Boucher
Price of a painting: 32,700 – 449,100 €.
Price of a drawing: 450 – 202,300 €.
Estimation of a print: 20 – 600 €.
If you would like to have a work by François Boucher appraised, our experts will take care of everything.
A young and talented artist
François Boucher is a French painter of the Rococo style. He was born on 29 September 1703 and died on 30 May 1770 in Paris. Boucher touched on all genres: mythological subjects, religious painting, rustic scenes, landscapes and animals.
François Boucher is the only son of Nicolas Boucher, master painter and draughtsman of the Saint-Luc Academy. He began his apprenticeship with his father, but from an early age he showed a disposition for painting. In 1720, François Boucher entered painter François LeMoyne's workshop, aged 17. There he learnt the secrets of decorative painting and mythological scenes, but only stayed a few months at the workshop. In 1721, François Boucher drew illustrations for the engraver and publisher Jean-François Cars and was noticed by collector Jean de Jullienne. He then received his first engraving commissions based on the works of Watteau. François Boucher took advantage of his free time to train with the painters Sebastiano Ricci and Giovanni Antonio Pellegrini. In 1723, he competed and won first prize in the Academy of Painting competition. Two years later, François Boucher exhibited a few paintings at the Youth Exhibition at Place Dauphine. In 1927, he left for Rome as a free student at the School of Rome in the company of the painter Charles van Loo. After four years in Italy, François Boucher returned to Paris in 1731 and was admitted to the Royal Academy of Painting and Sculpture. He then became the worldly painter and semi-official portraitist of wives, mistresses or fashionable women. He was quick to make a good living.
The master of his time
In 1732, François Boucher met the woman who would become his muse and wife: Marie-Jeanne Buseau. She first appears in the painting Renaud et Armide, in the role of Armide. They married in 1733 and went on to have three children, including two daughters who would marry the painters Baudouin and Deshays. Marie-Jeanne Boucher was also the model for other artists such as La Tour, Lundberg, Roslin and Gabriel de Saint-Aubin. In January 1734, Boucher presented his painting Renaud et Armide as a history painter at the Royal Academy. A year later, he was appointed assistant professor at the Academy along with Charles van Loo and Natoire. François Boucher discovered his own style in 1736 and became the undisputed master of the Rococo style. He was a most fashionable painter and earned the favours of Madame de Pompadour. He painted her portrait several times and produced the most delicate works for her in the 1750's. He also painted the decorations of her Château de Bellevue and her boudoir in Crécy. Boucher also worked for the Duke of Penthièvre, General de Montmorency and the King of Sweden. He was a member of the Société du Caveau and often presented his drawings there. With the arrival of neoclassicism, he went out of fashion around 1760. François Boucher kept his style until his death and exhibited his paintings at the Salon.
Main works
The Triumph of Venus (1740)
The Interrupted Sleep (1750)
Madame Bergeret (1766)
Recognising François Boucher's signature
Like many artists, Boucher did not sign all of his works. However, you will find below an example of the signatures to give you an idea. Variations of these signatures do exist, do not hesitate to contact one of our experts to formally authenticate a signature.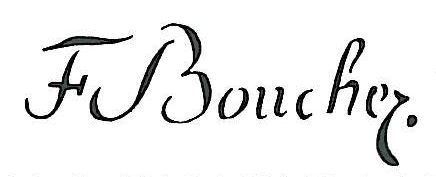 Appraising and selling a piece by François Boucher
If you own a piece by François Boucher or any other object, ask for a free estimate via our online form.
You will then be contacted by a member of our team of experts and auctioneers to give you an independent view of the market price of your piece. In the context of a possible sale, our specialists will also advise you on the different options available to sell your work at the best price.