Any questions?

contact@mr-expert.com
Do you have a piece by Frank Weston Benson in your possession and would like to know its value? Our Experts will carry out a free appraisal of your piece, provide you with an estimate of the market price, and then help you to sell at the best possible price.
Quote, appraisal and price by artist Frank Weston Benson
Price of a painting: 948 – 2,200,000 €.
Price of a drawing: 220 – 29,000 €.
Estimation of a print: 80 – 7,600 €.
If you would like to have a work by Frank Weston Benson appraised, our experts will take care of everything.
The beginnings of Frank Weston Benson
Frank Weston Benson is an American impressionist watercolourist painter born on March 24, 1862 and died on November 15, 1951 in Salem, Massachusetts.
Initiated to hunting by his father, he dreams of becoming an ornithological illustrator. In 1880 he studied at the School of the Museum of Fine Arts in Boston and left for France in 1883 to attend the Julian Academy. His beginnings were marked by the portraits he did of high-society families. He travelled to England, Italy, Belgium and Germany.
The classical influences of Frank Weston Benson
Benson's work was deeply influenced by that of Johannes Vermeer and Diego Velasquez. But the artist who further inspired the painter in the development of his modern artistic style was none other than Claude Monet. He borrowed his palette and brush technique from him and represented the American people with an ideal of grace, dignity and elegance.
In the summer of 1884, the artist painted in Concarneau with other colleagues. At the same time, he got engaged to the daughter of a friend of his from Salem, which led to their marriage in 1988 and the birth of four children. In the meantime, he became an art teacher in a school in Maine. In 1886 he opened his first studio and began to paint portraits, as these were the artist's favourite theme and he tried to represent his subjects as accurately as possible.
In 1989, he taught ancient drawing at the School of the Museum of Fine Arts in Boston and became head of the painting department the following year. In the 1890s, his family became his favourite theme. He also painted murals.
The Discovery of Impressionism by Frank Weston Benson
It wasn't until he joined the group "Ten American Painters" in 1898 that Benson slowly slipped towards open-air representations. During a summer stay in New Hampshire with his family, he produced his first Impressionist paintings. The portrait of his two daughters "The Sisters", painted in 1899, was a great success at exhibitions in the United States and Paris, and was a starting point for his successful reputation. Like the French Impressionists, Benson strived to capture light. He became one of the leaders of American Impressionism.
Benson was not one to experiment with the movements of his time such as Cubism, Expressionism and Fauvism. He preferred to remain within a traditional genre. His "gentile" style was criticized. He went on to depict nature, and his works of birds tended to compete with his portraits of women and children. In 1919 he was elected president of the County of Essex Ornithological Society.
Recognising F W. Benson's signature
Like many artists, Frank Weston Benson did not sign all of his works. However, you will find below an example of the signatures to give you an idea. Variations of these signatures do exist, do not hesitate to contact one of our experts to formally authenticate a signature.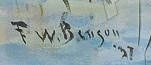 Appraising and selling a piece by Frank Weston Benson
If you own a piece by Frank Weston Benson or any other object, ask for a free estimate via our online form.
You will then be contacted by a member of our team of experts and auctioneers to give you an independent view of the market price of your piece. In the context of a possible sale, our specialists will also advise you on the different options available to sell your work at the best price.