Georges Mathieu
1921-2012
Any questions?

contact@mr-expert.com
Do you have a piece by Georges Mathieu in your possession and would like to know its value? Our Experts will carry out a free appraisal of your piece, provide you with an estimate of the market price, and then help you to sell at the best possible price.
Status, estimation and price of the artist Georges Mathieu
Price of a painting: 9,000 – 300,000 €.
Price of a drawing: 3,000 – 9,500 €.
Price of a print: 60 – 850 €.
Price of a sculpture: 25 – 2,400 €.
If you would like to have a work by Georges Mathieu appraised, our experts will take care of everything.
Georges Mathieu and lyrical abstraction
Georges Mathieu was born on 27 January 1921 in Boulogne-sur-Mer and died on 10 June 2012 in Boulogne-Billancourt. He first studied law and philosophy before turning to the arts in 1942. He worked as a teacher for a few years before devoting himself to painting. He exhibited canvases where the texture was composed of paint directly taken out of tubes or crushed by his finger at the Salon des Réalités Nouvelles.
Creating a George Mathieu work
Mathieu was set to be exhibited in the United States and Japan as early as the 1950s. His talent was confirmed at an exhibition in 1963 at the Musée d'Art Moderne de la Ville de Paris. Some critics considered Mathieu as one of the leaders of lyrical abstraction, a movement that was widespread in France and the United States. Mathieu's particularity was that his canvases were produced in public in the form of "happenings". The spontaneity of the painter's gesture on their canvas was of utmost importance to him. The canvases "La Bataille de Bouvines" and "Hommage à Philippe III le Hardi" were created in front of a crowd of spectators. In 1956, he did a performance at the Sarah-Bernhardt Theatre in front of 2000 people. He tried to do the same thing in New York, but he was not allowed to.
From 1968 to 1969, he worked with the Manufacture de Sèvres. In 1975, he became a member of the Academy of Fine Arts. He also worked on monumental canvases, such as the one he exhibited at the Grand Palais in 1978. He designed fountains, doors and sculptures that led him towards a more decorative style, including Air France posters, and the Antenne 2 logo.
Unlike other abstract artists such as Pollock, who numbered his paintings, Georges Mathieu preferred to name them by references. The titles of his works are often related to mathematics, physics or history.
Recognising Georges Mathieu's signature
Like many artists, Mathieu did not sign all of his works. However, you will find below an example of the signatures to give you an idea. Variations of these signatures do exist, do not hesitate to contact one of our experts to formally authenticate a signature.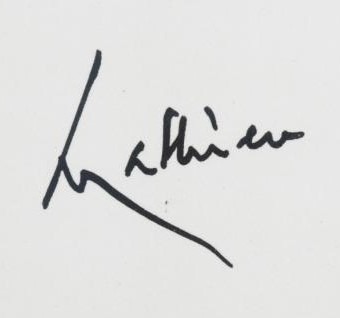 Appraising and selling a piece by Georges Mathieu
If you own a piece by Georges Mathieu or any other object, ask for a free estimate via our online form.
You will then be contacted by a member of our team of experts and auctioneers to give you an independent view of the market price of your piece. In the context of a possible sale, our specialists will also advise you on the different options available to sell your work at the best price.