Jean-Michel BASQUIAT
1960-1988
Any questions?

contact@mr-expert.com
Do you own any Jean-Michel Basquiat's artwork? Are you curious to know what they are worth? Our Experts can provide a free appraisal to give you an estimate of the market price, then help you to ensure the best possible price should you decide to sell.
Value, estimation and price of the artist Jean-Michel Basquiat
Price of a drawing 21,000 – 3,000,000 €.
Price of a painting: 24 800 – 89,000,000 €.
Estimation of a print: 120 – 38,000 €.
Price of an object: 250 – 1 100 €.
If you would like to have a work by Jean-Michel Basquiat appraised, our experts will take care of everything.
Basquiat underground
Jean-Michel Basquiat was born in 1960 in Brooklyn, New York, to a Puerto Rican mother and a Haitian father and belongs to part of what the United States calls the "racial minorities". Coming from a middle-class family with separated parents, the young teenager was, at the time, undisciplined and far from the art world. However, he was not far from the booming world of graffiti in 1970s New York City. The element that triggered a swift progression in the tagger's career was the moment when he took the direct initiative to tag the walls of the city's Soho district, where important art galleries were located, with his pseudonym "Samo", a contraction of "same old shit," with the famous crown and copyright.
Basquiat and painting
In the 1980s the world of graffiti first emerged in the artistic sphere. In 1981, the exhibition New York New Wave took place, transforming graffiti artists, whose work was transferred to canvas, into artists sought after by gallery owners. This exhibition rapidly accelerated Basquiat's career to which many museums would devote exhibitions, including the Dokumenta 7 in Cassel. The artist's graffiti can be recognised from the paintings he made on a multitude of materials, from prepared canvas to wooden doors, especially when he worked in the basement of gallery owner Annina Nosei, who financed him, pushed him to paint in large format and eventually organised his first exhibition. He left the Nosei gallery in 1982.
Basquiat and Warhol: a legendary collaboration
Basquiat was introduced to Andy Warhol in 1980, and went on to collaborate with him. Warhol suggested he take an anatomical drawing course at the New York Academy of Arts, as the young prodigy had never attended any art school. The two friends had a great affection for one another and produced some famous photos of the two boxing buddies, without ever forgetting the formal quality of the works they drew from these stagings. In 1984, Jean-Michel travelled to Hawaii and exhibited in collaboration with Bruno Bischofberger at the MoMA and made the cover of The New York Time Magazine with the title "New Art, New Money: The Marketing of an Amercian Arstist".
He exhibited for the first time on the African continent in 1986 during a solo show at the French Cultural Centre in Abidjan. (Sugar Ray Robinson, 1982)
Despite his rapid ascent, Basquiat died of an overdose at the age of 27 in 1988. This contributing to his legend and that of the "27 Club", a group of celebrities, such as Kurt Cobain and Janis Joplin, who died at age 27.
Recognising JM. Basquiat's signature
Like many artists, Jean-Michel Basquiat did not sign all of his works. However, you will find below an example of the signatures to give you an idea. Variations of these signatures do exist, do not hesitate to contact one of our experts to formally authenticate a signature.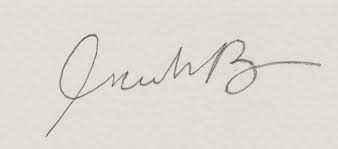 Appraising and selling a Basquiat's artwork
If you own a Jean-Michel Basquiat's artwork, use our online form for a free appraisal.
You will then be contacted by a member of our team of experts and auctioneers to give you an independent opinion of the market price. Should you wish to sell your painting or any other artwork, our specialists will also advise you on the various options available for selling at the best price.