Any questions?

contact@mr-expert.com
Do you have a piece by Juan Gris in your possession and would like to know its value? Our Experts will carry out a free appraisal of your piece, provide you with an estimate of the market price, and then help you to sell at the best possible price.
Status, estimation and price of the artist Juan Gris
Price of a painting: 58,000 – 23 500,000 €.
Estimated value of a drawing: 4,000 – 5,000,000 €.
Estimate of a print: 80 – 4,000 €.
If you would like to have a work by Juan Gris appraised, our experts will take care of everything.
Education and Parisian life.
Jose Gonzalez-Perez, better known as Juan Gris is a Spanish painter born on 23 March 1887 in Madrid. He died on 11 May 1927 in the Boulogne-Billancourt area of Paris. He was a painter close to the Cubist movement who lived and worked in France from 1906.
Juan Gris learnt industrial drawing at the Escuela de Artes y Manufacturas in Madrid from 1902 to 1904, then painted for a year with artist Jose Maria Carbonero. Equipped with this experience, Juan Gris settled in Paris where he became friends with fellow Spaniard Pablo Picasso, as well as Henri Matisse and Georges Braque. In 1912, he painted Pablo Picasso's portrait in cubist form. This was one of the first cubist paintings that was not done by Picasso or Braque.
From 1912, he developed the cubist movement, taking inspiration from analytical cubism and synthetic cubism. He continued to interpret cubism throughout his career.
Outcome and exhibitions
Following in Picasso's footsteps, Gris used the processes of collage and glued paper, always with small allusions to the outside world. Juan Gris dedicated his life to this art of synthesis, until achieving works of perfect simplicity. In 1924, Juan Gris gave a lecture at the Sorbonne on the Possibilities of Painting. He exhibited at the Galerie Simon in Paris, as well as the Galerie Flechtheim in Berlin and the Galerie Flechtheim in Düsseldorf between 1923 and 1925. Juan Gris died of a uraemia in Boulogne-Billancourt at the age of 40.
Even though Juan Gris and Pablo Picasso are great friends, it is said that Picasso envied the technique of his Spanish compatriot.
Salvador Dali said of him: "Juan Gris is the greatest of the Cubist painters, more important than Picasso because he is truer".
The Still Life with Tiled Tablecloth sold for €41.8 million at a Christie's auction in February 2014.
As for love
Juan Gris married Josette with whom he had a child, Georges. The painter made a portrait of his wife following the cubist movement, entitled Portrait of Madame Josette Gris. After Juan's death, Josette did not remarry and exclusively took care of their child.
Recognising Juan Gris's signature
Like many artists, Gris did not sign all of his works. However, you will find below an example of the signatures to give you an idea. Variations of these signatures do exist, do not hesitate to contact one of our experts to formally authenticate a signature.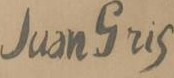 Appraising and selling a piece by Juan Gris
If you own a piece by Juan Gris or any other object, ask for a free estimate via our online form.
You will then be contacted by a member of our team of experts and auctioneers to give you an independent view of the market price of your piece. In the context of a possible sale, our specialists will also advise you on the different options available to sell your work at the best price.