Any questions?

contact@mr-expert.com
Do you have a piece by Le Pho in your possession and would like to know its value? Our Experts will carry out a free appraisal of your piece, provide you with an estimate of the market price, and then help you to sell at the best possible price.
Quote, estimation and price of the artist Le Pho
Price of a painting: 10,000 – 400,000 €.
Estimation of a print: 100 – 500 €.
Price of a drawing: 5,000 – 50,000 €.
Ask one of our experts for an estimate on Le Pho paintings.
Le Pho and France
Le Pho was born on 2 August 1907 in Ha Dong, Vietnam and died on 12 December 2001 in Paris. He was a Vietnamese painter who mainly depicted women. Coming from a literate family, he was initiated to calligraphy. He then studied at the Indochina School of Fine Arts in Hanoi. He will meet Victor Tardieu and Joseph Inguimberty, who will have an influence on his work. For him and other artists, this opportunity to train in the arts and crafts is a recognition of their individual identity.
In 1931, he made his first trip to Europe where he visited France and Italy. He will be one of the artists who will experience an artistic revolution between the extra-eastern and western modes of representation. In 1933, he returned to Vietnam where he taught at the Hanoi School of Fine Arts. He gave up working with lacquer because of an allergy. He concentrates on oil painting, gouache and ink on silk. These portraits of women are often flat. In 1937, he was the artistic director of the Indochinese section at the 1937 Universal Exhibition in Paris. He then settled permanently in Paris.
Le Pho and his international renown
His first solo exhibition was organised in 1938 in Paris. He will then send his work to Algeria. He turns to the work of Matisse, whom he will have the opportunity to meet in 1943.
His success will be international and he will sign a contract with the Wally Findlay Gallery in Chicago where part of his paintings will be acquired by American collectors. During his travels, his art will evolve, gradually moving away from traditional art.
His work is well represented in Hanoi, but not in French public collections. At every event dealing with Vietnamese art, Le Pho is exhibited as one of the most important representatives.
The work of Le Pho
Le Pho's work can be divided into two periods, the first turning to a production of works on silk and a composition that marks his Asian roots. The treatment of women is delicate, thus referring to the West and more specifically to Italian painting.
His encounters in Europe would influence his style, which became more modern. He met Maurice Bonnard and Puvis de Chavanne. An admirer of the impressionists, he began to use touch painting for a certain number of works.
Recognising Le Pho's signature
Like many artists, Le Pho did not sign all of his works. However, you will find below an example of the signatures to give you an idea. Variations of these signatures do exist, do not hesitate to contact one of our experts to formally authenticate a signature.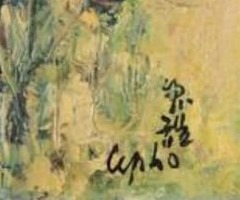 Appraising and selling a piece by Le Pho
If you own a piece by Le Pho or any other object, ask for a free estimate via our online form.
You will then be contacted by a member of our team of experts and auctioneers to give you an independent view of the market price of your piece. In the context of a possible sale, our specialists will also advise you on the different options available to sell your work at the best price.