Any questions?

contact@mr-expert.com
Do you own any Marc Chagall's artwork? Are you curious to know what they are worth? Our Experts can provide a free appraisal to give you an estimate of the market price, then help you to ensure the best possible price should you decide to sell.
Value, estimation and price of the artist Marc Chagall
Price of a painting:  10.000 – 21 400,000 €.
Price of a drawing: 1 700 – 1 100,000 €.
Estimation of a print: 110 – 50,000 €
Price of a ceramic: 150 – 195,000 €
Price of a piece of furniture: 9 600 – 80,000 €.
Estimation of a sculpture: 160 – 320,000 €.
If you would like to have a work by Marc Chagall appraised, our experts will take care of everything.
Marc Chagall's youth
Marc Chagall was a painter from a modest Jewish background. He was born in Vitebsk (Belarus) in 1887 and died in Saint-Paul-de-Vence (France) in 1985.
He showed good aptitude for drawing at an early age and began his apprenticeship with a local painter. He went to Saint Petersburg in 1907 to attend the Imperial School of Fine Arts where he took a course in modern art, leading him to discover French painting. He felt the pull of Paris and he moved there in 1910 on a scholarship.
The Parisian years and Marc Chagall's return to Russia
He quickly blended into the Parisian artistic scene and met the Delaunays, La Fresnaye, Gleizes and Metzinger. He also became friends with two poets, Cendrars and Apollinaire, who were both enthusiastic about his painting. Chagall was inspired by the fauvists in terms of colour, but also borrowed from cubism and Delaunay's luminist conception.
Chagall exhibited at the Salon des Indépendants in 1912 and 1913 and Apollinaire introduced him to the German gallery owner Herwarth Walden who organised an exhibition for him.
Upon his return to his homeland, Belarus, he was forced to stay as war broke out. There he married Bella Rosenfeld in 1915. The following year he was appointed curator of the Fine Arts of Vitebsk and wanted to take advantage of his position to change mentalities, but his artistic practices were misunderstood by the Russian authorities and the artistic personalities he had brought in, such as Malevitch. This led to his departure.
In 1920, he moved to Moscow and collaborated with the Jewish Theatre, creating sets and costumes. This was a very productive period for the painter. He introduced fantasy and the fantastic into his works which mixed with various influences such as futurism and cubism.
Travels to France, exile in New York and Marc Chagall's death in his adopted country
In 1922, Chagall went to Berlin and began to study engraving. He engraved the illustrations of his autobiography (Mein Leben, 1923) for Paul Cassirer. This was the start of some major commissions in this field, such as those of Vollard, as soon as the artist returned to Paris in 1923. His works welcomed new representations such as those of the rooster, the fish and the bouquet of flowers. In 1937 he obtained French nationality.
Occupied France forced him into exile in New York from 1941 to 1948. His painting is marked by the war and the anguish linked to the fate of the Jews. In 1944 his wife died brutally. He created the sets and costumes for The Firebird, with music by Igor Stravinsky. At the end of the war, the painter became internationally renowned and a retrospective exhibition was organised in his honour at the Metropolitan Museum of Art and then elsewhere across Europe.
Chagall moved to Vence in 1950 and was introduced to ceramics, stained glass and sculpture. For 20 years, he created numerous commissions, among which was the set design for the Opéra Garnier, which he made between 1963 and 1965.
Recognising Marc Chagall's signature
Like many artists, Chagall did not sign all of his works. However, you will find below an example of the signatures to give you an idea. Variations of these signatures do exist, do not hesitate to contact one of our experts to formally authenticate a signature.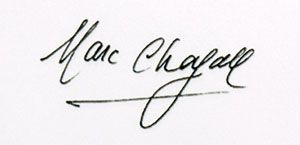 Appraising and selling a Chagall's artwork
If you own a Marc Chagall's artwork, use our online form for a free appraisal.
You will then be contacted by a member of our team of experts and auctioneers to give you an independent opinion of the market price. Should you wish to sell your painting or any other artwork, our specialists will also advise you on the various options available for selling at the best price.