Any questions?

contact@mr-expert.com
Do you have a piece by Moïse Kisling in your possession and would like to know its value? Our Experts will carry out a free appraisal of your piece, provide you with an estimate of the market price, and then help you to sell at the best possible price.
Quote, price and estimation of the artist Moïse Kisling
Price of a painting by the artist: 8,200 – 420,000 €.
Estimation of a drawing by the artist: 680 – 13,800 €.
Estimation of a print by the artist: 90 – 3,100 €.
If you would like to have a work by Moïse Kisling appraised, our experts will take care of everything.
Moïse Kisling: in love with the French capital
Moses Kisling was an artist born in 1891 in Poland. He settled in the French capital in 1910. It was thanks to his very precocious talent and his master Joseph Pankiewicz that he came to live in Paris, especially because of Pankiewicz's love of the city. He was also a friend of Bonnard and Renoir. His father would have wished for his son to become an engineer, but left the college behind in favour of the fine arts. Kisling saw himself nowhere else but in Paris. When he settled there, he quickly became friends with many artists of his time and lived for a while at the famous Bateau-Lavoir in Montmartre. He exhibited for the first time at the Salon d'Automne in 1912 and made his mark on people's consciences.
He joined the Foreign Legion in 1914 during the Second World War and obtained French nationality twelve years later.
His main subjects of representation are flowers and women. The painter sought to bring out the modern characteristics of the beauty of those he represents. He achored them in their time with their cut, their clothes, and their make-up. (La divan rouge, 1917)
A worldly artist's rise to fame
His first major exhibition took place in 1919. Two years earlier, he married the daughter of a senior officer of the Republican Guard in Paris, Josephine Gros, better known as Renée. This new social status enabled him to travel and discover new landscapes, thus renewing his practice while integrating a new liveliness to his palette (Port de Sanary, 1920).
Rue Joseph-Bara became a Mecca for Parisian art and life when Kisling settled there. Max Jacob, Jean Cocteau and Pierre Reverdy met there regularly. The painter had a clear talent for creating links between different artists and fields of ideas. In particular, he accommodated Modigliani and offered him a place as well as the authorization of his models to paint. The companions made portraits of each other.
From "degenerate art" to the reappropriation of success
Kisling's art was not spared by the Nazi regime and was forced into exile in the United States. He continued to paint once there and was even exhibited in Los Angeles in 1942.
He returned to France four years later. During this period, his colour palette intensifies even more and his mimosa bouquets become more and more opulent. Kisling fully reappropriated the French art scene in 1951 at an exhibition at the Drouant-David gallery, but died only two years later in 1953.
Recognising Kisling's signature
Like many artists, Moïse Kisling did not sign all of his works. However, you will find below an example of the signatures to give you an idea. Variations of these signatures do exist, do not hesitate to contact one of our experts to formally authenticate a signature.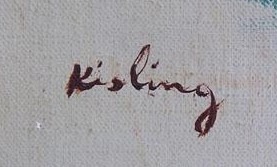 Appraising and selling a piece by Moïse Kisling
If you own a piece by Moïse Kisling or any other object, ask for a free estimate via our online form.
You will then be contacted by a member of our team of experts and auctioneers to give you an independent view of the market price of your piece. In the context of a possible sale, our specialists will also advise you on the different options available to sell your work at the best price.