Robert Delaunay
1885-1941
Any questions?

contact@mr-expert.com
Do you have a piece by Robert Delaunay in your possession and would like to know its value? Our Experts will carry out a free appraisal of your piece, provide you with an estimate of the market price, and then help you to sell at the best possible price.
Status, estimation and price of the artist Robert Delaunay
Price of a painting: 24,000 – 3 900,000 €.
Price of a drawing: 500 – 1,700,000 €.
Price of a sculpture: 26,000 – 150,000 €.
Estimation of a print:  300 – 17,000 €.
Ask for an estimate of Robert Delaunay's paintings from one from an expert on this artist.
An artist's soul.
Robert Delaunay is a French painter born on 12 April 1885 in Paris, he died on 25 October 1941 in Montpellier. He and his wife, Sonia Delaunay, were the founders of the Orphist movement, a branch of Cubism.
Born in a bourgeois building in the 16th arrondissement, Robert Delaunay was opposed to his stilted education and attached little importance to material goods. His parents took him to the 1889 Paris Universal Exhibition at the age of 4, where he saw the construction of the Eiffel Tower, which would leave a significant mark on his works. He also had a passion for modern science, particularly electricity.
Delaunay was not particularly interested in school, and rather spent his time drawing, leaving high school at 17. He became an apprentice to theatre decorator Eugene Ronsin.
Robert Delaunay painted his first canvases in 1905: neo-impressionist landscapes with flowers. He took part in the 21st Salon des Indépendants in 1906 and frequented young artists such as Jean Metzinger and Fernand Léger in 1907.
Sonia Delaunay and Cubism
Robert Delaunay met Sonia Stern in 1909 and it was love at first sight, they married in 1910. They had a child together in 1911, Charles.
Influenced by Cézanne, Robert Delaunay turned to Cubism and then Orphism with his Fenêtres series. With the help of Sonia Delaunay, he created simultaneity based on contrasts. Kandinsky and Delaunay kept up regular correspondence, giving each other guidance and advice.
Thanks to his relationship with Kandinsky, Delaunay was able to exhibit in Moscow in 1912. But he also presented his works in Munich, Zurich and Paris. He became friends with Apollinaire, Matisse and Paul Klee. He took advantage of his reputation to introduce the artists of the Russian avant-garde to the French public.
The Delaunays stayed in Spain and Portugal throughout the war and did not return to France until 1922, at the height of Dadaism. They both took part in the 1925 Decorative Arts Exhibition where Sonia received further recognition.
The 1937 International Exhibition commissioned him to create frescoes and paintings for the Air pavilion and the Railway pavilion. In 1938, he decorated the sculpture hall at the Salon des Tuileries, which was his last important work.
The painting Joie de Vivre, from the Rhythm series, sold for 2,337,500 euros at Sotheby's.
Recognising Robert Delaunay's signature
Like many artists, R. Delaunay did not sign all of his works. However, you will find below an example of the signatures to give you an idea. Variations of these signatures do exist, do not hesitate to contact one of our experts to formally authenticate a signature.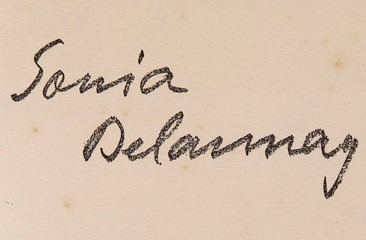 Appraising and selling a piece by Robert Delaunay
If you own a piece by Robert Delaunay or any other object, ask for a free estimate via our online form.
You will then be contacted by a member of our team of experts and auctioneers to give you an independent view of the market price of your piece. In the context of a possible sale, our specialists will also advise you on the different options available to sell your work at the best price.