Any questions?

contact@mr-expert.com
Do you have a piece by Sanyu in your possession and would like to know its value? Our Experts will carry out a free appraisal of your piece, provide you with an estimate of the market price, and then help you to sell at the best possible price.
Status, estimate and price of the artist Sanyu
Selling price of a painting: 310,000 – 7,000,000 €.
Estimate for a drawing: 13,000 – 240,000 €.
Artist's quotation for the sale of a print: 1 600 – 32,000 €.
Sanyu's apprenticeship
Sanyu was born on October 14, 1901 in Nanchong and died on August 12, 1966 in Paris. He came from a family running a large silk factory where he could go and admire the fabrics he made. His elder brother encouraged him to evolve in art, he studied calligraphy with Zhao Xi and painting with his father. He continued his apprenticeship at the University of Shanghai.
In 1920, he went to France and decided to settle there. With his wife, he moved to Paris and then to Malakoff. Rather than follow an apprenticeship at the École des Beaux-Arts, he preferred the vision of the Grande Chaumière. He returned to Paris after his divorce. He undertook several stays in Germany where he created landscapes and plants as shown in the works " Landscape with Willow Trees ". However, this period did not bring him success.
Sanyu's work
He is an artist emancipating himself from traditional Asian art like other Chinese artists of the 20th century. He will draw portraits of people around him.
Mastering colour and shapes, Sanyu is sometimes nicknamed the Chinese Matisse. His features are incisive, often enhanced with light colours. He will excel in the field of the nude where he carries out several studies. From 1929, he began to paint nudes on canvas. He represents women with simple flat tints of colour without worrying about depth.
His works remain inescapable and priceless. In 1932, he began to engrave his works on the advice of a collector. True international recognition will take place after his death, often associated with the School of Paris, he was a little-quoted artist compared to his compatriot Zao Wou Ki. The canvas " Fleurs in an vase " was sold for HK$ 74.14 million at an auction in Hong Kong.
Recognising Sanyu's signature
Like many artists, Sanyu did not sign all of his works. However, you will find below an example of the signatures to give you an idea. Variations of these signatures do exist, do not hesitate to contact one of our experts to formally authenticate a signature.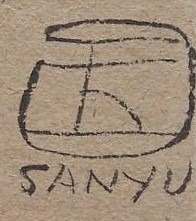 Appraising and selling a piece by Sanyu
If you own a piece by Sanyu or any other object, ask for a free estimate via our online form.
You will then be contacted by a member of our team of experts and auctioneers to give you an independent view of the market price of your piece. In the context of a possible sale, our specialists will also advise you on the different options available to sell your work at the best price.