Théodore Géricault
1791-1824
Any questions?

contact@mr-expert.com
Do you have a piece by Théodore Géricault in your possession and would like to know its value? Our Experts will carry out a free appraisal of your piece, provide you with an estimate of the market price, and then help you to sell at the best possible price.
Quote, price and estimation of the artist Théodore Géricault
Price of a painting: 26,100 – 745,000 €.
Price of a drawing: 1,600 – 119 800 €.
Estimation of a print: 60 – 12,900 €.
Sculpture: 3,500 – 32,000 €.
If you would like to have a work by Théodore Géricault appraised, our experts will take care of everything.
A precocious artist with unique talent
Théodore Géricault was a French painter born in 1791. He is world famous for having created the Raft of the Medusa between 1818 and 1819. Unfortunately, not all of his work has survived until today due to bombings that took place in 1944. He began drawing at a very young age and in 1808, at the age of 17, he joined painter Carle Vernet's studio. He then joined Guérin's studio, where artists tried to reconcile academism and romanticism, which were then in opposition. The first of his works to have a resounding impact was The Charging Chasseur. What strikes the viewer most in his painting is the ardour and intensity of the colours and the power of his drawing.
Géricault and the Raft of the Medusa
Like many artists of his time, Géricault left on an initiation trip to Rome to discover the greatest masters of the Italian Renaissance, including Michelangelo. It was on his return to Paris in 1817 that he decided to begin the creation of his most famous work, inspired by the shipwreck of the Medusa in 1816. The phenomenal success he achieved, especially in London, led him to settle in England, but only for three years, as bad weather had overcome his motivation to live on the other side of the Channel. He died of a bad fall on horseback in 1824.
The Raft of the Medusa is a monumental work, as much by its genius as by its dimensions – it stands at 4.91 high and 7.16 metres wide. In order to best represent his subject, Géricault carried out extensive studies on the physical details and history of the shipwreck. He directly involved survivors in his work by drawing inspiration from their testimonies and having them pose for him. Géricault even goes so far as to use human remains and bones stored in his workshop in order to represent the anatomy of the decaying bodies as faithfully as possible.
Deadly iconography
The iconography of the painter's canvases, often morbid, took its source from the period in which Géricault lived his youth, during the Reign of Terror. The singularity of the portraits he produced for the Salpêtrière Hospital in Paris also stems from the fact that he used sick and dead bodies as models. At the end of his life, he tried his hand at sculpture without much success, but still excelled in depicting horses.
Recognising Th. Géricault's signature
Like many artists, Théodore Géricault did not sign all of his works. However, you will find below an example of the signatures to give you an idea. Variations of these signatures do exist, do not hesitate to contact one of our experts to formally authenticate a signature.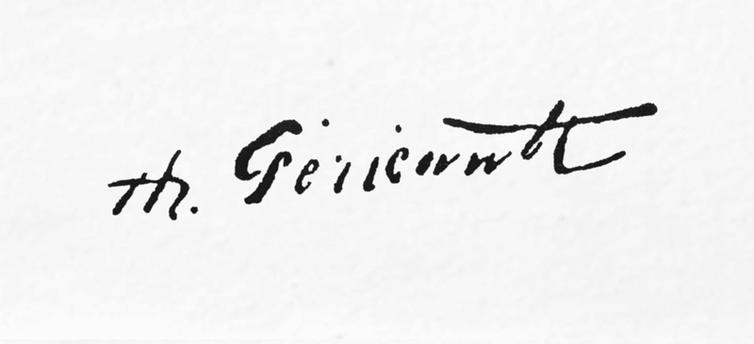 Appraising and selling a piece by Théodore Géricault
If you own a piece by Théodore Géricault or any other object, ask for a free estimate via our online form.
You will then be contacted by a member of our team of experts and auctioneers to give you an independent view of the market price of your piece. In the context of a possible sale, our specialists will also advise you on the different options available to sell your work at the best price.