Any questions?

contact@mr-expert.com
Do you have a piece by Alfred Sisley in your possession and would like to know its value? Our Experts will carry out a free appraisal of your piece, provide you with an estimate of the market price, and then help you to sell at the best possible price.
Status, estimation and price of the artist Alfred Sisley
Average estimate for a painting: 78,000 – 2 900,000 €.
Price of a drawing: 1,200 – 250,000 €.
Sisley status for the sale of a print: 80 – 8000 €.
If you would like to have a work by Alfred Sisley appraised, our experts will take care of everything.
Introduction to French painting and landscapes
Alfred Sisley was an English painter and engraver. He was born on 30 October 1839 and died on 29 January 1899 in Moret-sur-Loing (Seine-et-Marne, France). He lived and worked in France and was closely involved in the Impressionist movement. He tried twice to get himself naturalised as a Frenchman, but died beforehand of throat cancer, so the Impressionist who best represented the landscapes of the Seine died as an Englishman.
His parents moved to Paris for their business even though the headquarters of their family business was in London. Alfred Sisley was sent there at the age of 18 to pursue a career in commerce. From 1857 to 1860, he spent more time in museums than he did at school. Upon his return to France he devoted himself to painting. In 1862 he entered Charles Gleyre's studio at the Beaux-Arts de Paris and met Renoir, Monet and Bazille. The four friends soon left Gleyre's studio and went to paint in the forest of Fontainebleau in 1863. He met Marie-Louise Lescouezec in 1966 with who he married and had three children wit. Sadly, one of their children did not survive beyond infancy.
The family resided in Paris and Alfred Sisley spent his time between his studio and the Café Guerbois where the younger generation would meet, including Manet and Zola.
Sisley left Paris for Louveciennes in 1871, at the beginning of the Prussian occupation. Here, he painted many landscapes, including Premières neiges à Louveciennes. War is not represented in any of his canvases from this period.
Exhibitions and English landscapes
In 1874 Sisley presented six paintings at the First Exhibition of Impressionist Painters and was congratulated for his work. The same year, Alfred Sisley went to London and painted about twenty canvases in the vicinity of Molesley and Hampton Court. Furthermore, 1874 was also the year in which Sisley, Monet, Renoir, Morisot and Degas founded the Société Anonyme des Artistes Peintres, Sculptors et Graveurs. He then took part in the Second and Third Impressionist Exhibitions in 1876 and 1877 respectively. Sisley exhibited several times across the Atlantic during the 1880s, mainly in New York.
Gallery owner Georges Petit set up a retrospective of Sisley's work in 1897 in Paris, a collection that included six pastels and 146 paintings. Not a single canvas was sold, which broke the painter's heart. He returned to England, firstly to London and then to Cardiff where he painted the rocks and cliffs of the English landscape. His wife died at the end of 1898 and Sisley joined her only a few months later.
Alfred Sisley's Morning at Saint-Mammès sold for 305,000 euros in June 2005 in Paris.
Recognising Alfred Sisley's signature
Like many artists, Sisley did not sign all of his works. However, you will find below an example of the signatures to give you an idea. Variations of these signatures do exist, do not hesitate to contact one of our experts to formally authenticate a signature.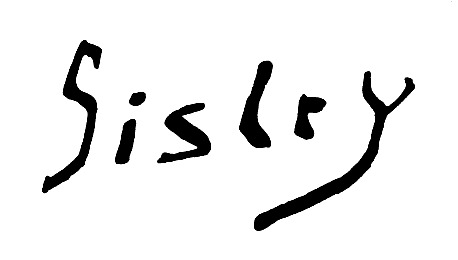 Appraising and selling a piece by Sisley
If you own a piece by Alfred Sisley or any other object, ask for a free estimate via our online form.
You will then be contacted by a member of our team of experts and auctioneers to give you an independent view of the market price of your piece. In the context of a possible sale, our specialists will also advise you on the different options available to sell your work at the best price.