Any questions?

contact@mr-expert.com
Do you own any Auguste Renoir's artwork? Are you curious to know what they are worth? Our Experts can provide a free appraisal to give you an estimate of the market price, then help you to ensure the best possible price should you decide to sell.
Value, estimation and price of the artist Auguste Renoir
Selling price of a painting by Renoir: 45,000 – 1 500,000 €.
Average estimate of a drawing: 2 700 – 200,000 €.
Renoir's value for the sale of a print: 70 – 10,000 €.
Price of a sculpture: 3 200 – 350,000 €.
Auguste Renoir's apprenticeship
Pierre-Auguste Renoir alias Auguste Renoir was born on 25 February 1841 in Limoges and died on 3 December 1919 in Cagnes-sur-Mer. He came from a modest family. In 1844 his family moved to Paris, close to the Louvre, and then to the Marais district. He began his apprenticeship as a painter on porcelain. With mechanisation, he began to decorate fans and blinds to earn a living.
He went to the Louvre to make copies and became fascinated by Rubens and 18th century French painters such as Watteau, Boucher or Fragonard. In 1962, he was admitted to the École des Beaux-Arts de Paris. At the same time, he attended classes at the Académie de Gleyre, where he met Monet, Sisley and Bazille. He had great admiration for Courbet and Manet.
Renoir and Impressionism
Auguste Renoir left the Beaux-Arts in 1864 and presented "La Esméralda" to the Paris Salon that same year. During this period, he was influenced by Ingres and Delacroix. He stayed at the Grenouillère with Monet which would be decisive for the rest of his career, he painted in the open air and changed the colours of his palette. He especially used touch to paint and work the light of his canvases. He concentrates on the characters, whereas Monet worked more on landscapes. During the Franco-Prussian war of 1871, he became a furniture maker in the cavalry before falling seriously ill and being demobilised.
During the exhibition of Impressionist painters in 1878, he presented "Le Bal du moulin de la Galette" which was bought by Gustave Caillebotte.
A return to more classic painting
Renoir decided to stop exhibiting with his friends and return to the official Salon. He received several portrait commissions that would make him famous. This fame fortunately allowed him to assert his style. He travelled in the south of France from 1881 to 1883 to produce landscapes. Once he came into contact with Raphael's works, he felt that he had overcome Impressionism, and wanted to produce timeless paintings. This became what is known as his Ingresque period. Drawing took precedence over colour as shown in his painting "Les grandes baigneuses". Like many of his friends, Renoir was deeply affected by Manet's death. In 1892, the gallery owner Paul Durand-Ruel organised a major exhibition for him.
His rheumatism began to paralyse him, but this did not prevent him from painting in the south of France in Cagnes, where he decided to settle. Renoir would then continue working on portraits and devote himself to nudes, still-life and mythological scenes. He enjoyed great international success, but did not forget his taste for the simple things in life. He became interested in sculpture, and collaborated with Richard Guino and Louis Morel.
Today, Renoir's works are much appreciated by amateurs. Some paintings reach millions of euros or dollars at international auctions. "La Lecture" sold for nearly $5,000,000 at Sotheby's in 2007. It should be noted that some paintings are more accessible depending on the period.
Recognising Auguste Renoir's signature
Like many artists, Renoir did not sign all of his works. However, you will find below an example of the signatures to give you an idea. Variations of these signatures do exist, do not hesitate to contact one of our experts to formally authenticate a signature.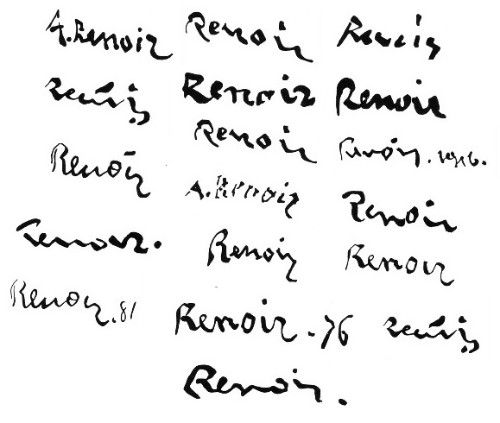 Appraising and selling a Renoir's artwork
If you own an Auguste Renoir's artwork, use our online form for a free appraisal.
You will then be contacted by a member of our team of experts and auctioneers to give you an independent opinion of the market price. Should you wish to sell your painting or any other artwork, our specialists will also advise you on the various options available for selling at the best price.