Any questions?

contact@mr-expert.com
Do you have a piece by Auguste Rodin in your possession and would like to know its value? Our Experts will carry out a free appraisal of your piece, provide you with an estimate of the market price, and then help you to sell at the best possible price.
Status, estimation and price of the artist Auguste Rodin
Average estimate for a sculpture: 800 – 12,500,000 €.
Price of a drawing: 1 700 – 128,000 €.
Artist's quotation for a print: 50 – 5,500 €.
Average estimate of a ceramic: 5,200 – 64,000 €.
Auguste Rodin: the human figure
Rodin was born in 1840 in Paris. He belongs to the first wave of Impressionists. Like many innovative artists of his time, he did not study art at the Ecole des Beaux Arts, but elsewhere, at the special school of drawing where he received professional training. In his writings he praises the merits of the school.
However, the private life of the artist in his early days remains little documented today, with the exception of a spiritual crisis that made him become a clergyman in 1862, an inspiration visible in works such as Christ in Magdalene and St John the Baptist preaching. From the 1860s until 1871, he worked and carried out commissions for popular sculptors during the Second Empire.
Like many sculptors of his time, he also created small sculptures and portraits for the general public. Rodin was also an avid reader and cultured man. This led him to reflect on the notion of urban space as a frame for his works, especially his sculptures.
The works that ensured Rodin's good reputation in Belgium and France, such as the Age of Bronze or Saint John the Baptist in Sin, are above all concerned with representing the human figure: his emotions, feelings and physiognomy. In this respect, the name given to his works often came from the critics or his friends, not from himself.
The Gates of Hell and The Thinker
One of Rodin's iconic works is the Gates of Hell, which he created following a government commission to decorate the entrance to the Museum of Decorative Arts. He was inspired by Dante's Inferno for this sculpture, and reading this author inspired him to create many other works. At the top of the door there is a man in a tympanum meditating on his condition.
Rodin later detached this figure to make his best-known work to date, The Thinker. He also used other figures from the Gates of Hell in new statues or carved groups. Rodin also created a number of monuments, including the noteworthy Claude Lorrain and Victor Hugo.
Master of his heritage
At the turn of the 20th century, Rodin, who was then leading a vast workshop, embodied various styles, themes and techniques. He became concerned about the artistic legacy he would leave behind. Moreover, the sculptor worked a lot on his image and indulged in that of a cultured and mysterious man. But the goal he pursued until his death was never anything other than to represent the worries and thoughts of modern man.
Recognising Auguste Rodin's signature
Like many artists, Rodin did not sign all of his works. However, you will find below an example of the signatures to give you an idea. Variations of these signatures do exist, do not hesitate to contact one of our experts to formally authenticate a signature.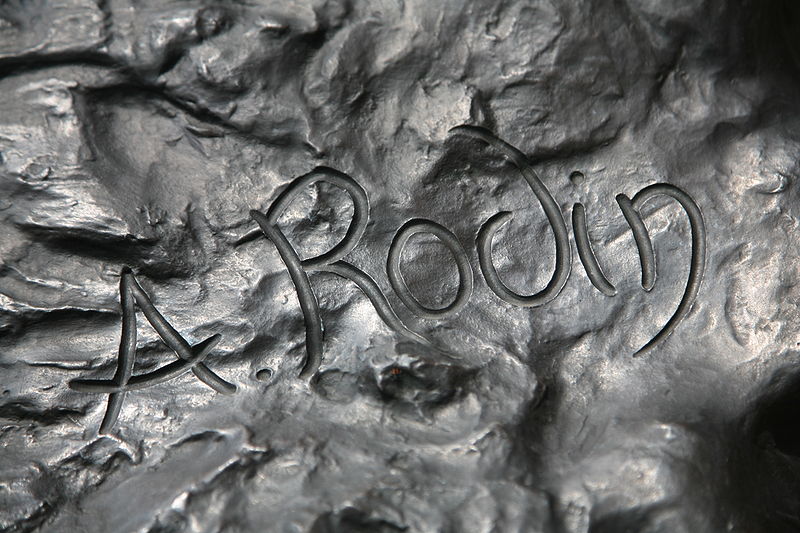 Appraising and selling a piece by Auguste Rodin
If you own a piece by Auguste Rodin or any other object, ask for a free estimate via our online form.
You will then be contacted by a member of our team of experts and auctioneers to give you an independent view of the market price of your piece. In the context of a possible sale, our specialists will also advise you on the different options available to sell your work at the best price.