Any questions?

contact@mr-expert.com
Do you have a piece by Cy Twombly in your possession and would like to know its value? Our Experts will carry out a free appraisal of your piece, provide you with an estimate of the market price, and then help you to sell at the best possible price.
Status, estimation and price of the artist Cy Twombly
Price of a painting: 390,000 – 49,000,000 €.
Price of a drawing: 4,000 – 2,000,000 €.
Estimation of a print: 150 – 60,000 €
Price of a sculpture: 1,700,000 – 5,000,000 €.
If you would like to have a work by Cy Twombly appraised, our experts will take care of everything.
The artist's origin
Twombly was born in Lexington (Virginia, USA) in 1928. He studied at the Boston Museum School and then moved to New York in 1950, during a period of splendour for American painting. There he met artist Robert Rauschenberg at the Art Students League, who he remained very close with. The latter pushed him to join Black Mountain College, a school where the future of American art was at play. There he met many other artists who left their mark on 20th century art history. Twombly embarked on a trip to Italy, Spain and Morocco with Rauschenberg in 1952-1953, which greatly influenced his artistic production upon his return (Tiznit 1953). Twombly had an approach of "unlearning" and deliberately inscribed numerous random pencil or chalk lines in his works. On his return to New York, he made his famous "All-over paintings" between 1954 and 1956 on very large black or white formats. He drew random lines – doodles – in pencil or paint, thus questioning abstract expressionism (Fuck academy 1955). As a neo-Dadaist, Twombly also made sculptures and assembled scraps that he covered in white paint which he left untitled.
Twombly the post-modernist
Twombly moved to Italy in 1959 with the aim of becoming closer to European art. He tried out different types of writing in his work and in the years following 1961 he produced paintings of Baroque inspiration (Empire of Flora, 1961). His work was decried by critics and artists such as Donald Judd, to which Twombly responded with irony in his "Blackboard paintings", works whose tracings he further simplified in the 1970s. The artist also drew heavily on European art history (Rape of the Sabines 1961-1963) and Greek mythology. In fact, Twombly wondered what created the distance between noble painting and that of apparently clumsy, less considered painting.
Ascension to the top of American art
Twombly worked largely on paper after 1971, which he sometimes combined with canvas (Goethe in Italy, 1978). He then moved closer to the plant world in the 1980s (Paesaggio 1986). He worked on pictorial matter in his acrylic and oil paintings, which he created with the same deliberate clumsiness that is used in his sculptures, a medium that he started using again in 1976 after 17 years. In 1994, the Museum of Modern Art in New York organized his retrospective, which propelled forward as a hero of American painting.
Twombly passed away on 5 July 2011.
Recognising Cy Twombly's signature
Like many artists, Cy Twombly did not sign all of his works. However, you will find below an example of the signatures to give you an idea. Variations of these signatures do exist, do not hesitate to contact one of our experts to formally authenticate a signature.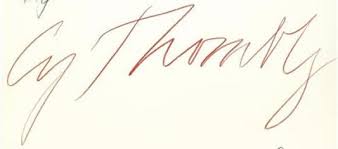 Appraising and selling a piece by Cy Twombly
If you own a piece by Cy Twombly or any other object, ask for a free estimate via our online form.
You will then be contacted by a member of our team of experts and auctioneers to give you an independent view of the market price of your piece. In the context of a possible sale, our specialists will also advise you on the different options available to sell your work at the best price.