Francisco De Goya
1746-1828
Any questions?

contact@mr-expert.com
Do you have a piece by Francisco de Goya in your possession and would like to know its value? Our Experts will carry out a free appraisal of your piece, provide you with an estimate of the market price, and then help you to sell at the best possible price.
Quote, estimate and price of the artist by Francisco de Goya
Price of a painting: 11,000 – 1 900,000 €.
Estimated value of a drawing: 340 – 2,200,000 €.
Estimation of a print: 50 – 13,500 €.
If you would like to have a work by Francisco de Goya appraised, our experts will take care of everything.
Franscico de Goya's youth
Francisco de Goya y Lucientes was a Spanish painter and engraver, born on 30th March 1746 in Fuendetodos, near Zaragoza, and died on 16th April 1828 in Bordeaux. Throughout his career he produced easel paintings, murals, engravings and drawings. He was a pioneer of the Romanticism movement and contemporary painting.
Studies and early inspirations
Francisco de Goya was introduced to art by depicting pious images in the Baroque style. He was 10 years old when he joined the Pious School of Zaragoza, where he studied classics. His teacher found he had artistic talents and introduced him to Martin Zapater, a wealthy Spanish merchant. He entered the José Luzan Academy of Drawing in Zaragoza from 1759 until 1763. Francisco de Goya tried to win a scholarship for an apprenticeship in Rome in 1763 and again in 1766, but to no avail. He travelled to Italy in 1770 on his own, visiting Rome, Venice, Bologna and various other Italian cities. He discovered neo-classicism upon his return to Spain, particularly in Madrid. Francisco de Goya was a tapestry designer for the royal Santa Barbara factory where he discovered the Rococo style. The artist fell ill in 1793, which led him to discover a more creative and original painting style that took him away from the decorations of the royal palaces. He made a transition to the Romantic aesthetic by creating a series of tinplate paintings, called "Caprice and Invention".
Representation of war
His works reflect the upheavals of the Napoleonic Wars in Spain, including his series of prints The Disasters of War, which can be considered a modern reportage of these wars. Goya wants to represent the heroism of the victims, without distinction of social class. The beginning of the 19th century saw the development of new portraits, paving the way for a new bourgeois art. Francisco de Goya created controversy with his work The Nude Maja, maintaining a certain mystery about the identity of the sublime model. He painted two large canvases on the uprising of 2 May 1808 at the end of the Franco-Spanish conflict, which allowed for a thematic and aesthetic revival of historical paintings. Francisco de Goya anticipated 20th century contemporary painting with a series of oil paintings on dry wall that decorate his country house called The Black Paintings. Goya produced more than 700 paintings, 280 engravings and several thousand drawings between 1771 and 1827. He claims "to have no other master than Velázquez, Rembrandt and Nature. »
Three drawings by the Spanish painter, believed to have been lost for more than 130 years, were sold for 5 million euros in London in July 2008. Christie's sold Bajar Rinendo, one of the three drawings, for 2,281 million euros, a world record for a drawing by Goya.
Recognising Francisco de Goya's signature
Like many artists, Goya did not sign all of his works. However, you will find below an example of the signatures to give you an idea. Variations of these signatures do exist, do not hesitate to contact one of our experts to formally authenticate a signature.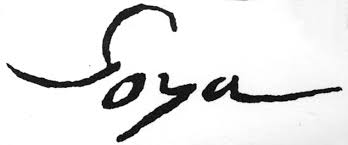 Appraising and selling a piece by Francisco de Goya
If you own a piece by Goya or any other object, ask for a free estimate via our online form.
You will then be contacted by a member of our team of experts and auctioneers to give you an independent view of the market price of your piece. In the context of a possible sale, our specialists will also advise you on the different options available to sell your work at the best price.