Any questions?

contact@mr-expert.com
Do you have a piece by Gerhard Richter in your possession and would like to know its value? Our Experts will carry out a free appraisal of your piece, provide you with an estimate of the market price, and then help you to sell at the best possible price.
Quote, estimate and price of the artist Gerhard Richter
Price of a painting by the artist: 12,000 – 12,000,000 €.
Estimation of a drawing by the artist: 1,700 – 290,000 €.
Estimation of a print by the artist: 20 – 15,000 €.
Estimation of a photograph by the artist: 3,300 – 42,000 €.
Estimation of a tapestry by the artist: 300 – 880,000 €.
If you would like to have a work by Gerhard Richter appraised, our experts will take care of everything.
Gerhard Richter's early days
Gerhard Richter was born in 1932 in Dresden, Germany and enrolled at the art school in his home town, far from the European avant-gardists and socialist realism. He specialised in mural painting and graduated in 1956. Three years later, Richter managed to travel to West Germany to attend the Documenta exhibition in Kassel. There he discovered the work of Jackson Pollock, who would push him to leave East Germany for good shortly before the Berlin Wall was erected. Richter enrolled at the Academy of Fine Arts in Düsseldorf. The works he produced in 1962: Scar, Aggression, Litany allowed him to express himself fully, unlike his work in East Germany. He moved from legible figuration to a gestural practice that advocated manner before motive.
Capitalist realism
That same year he created a collective Kunstakademie and met Lueg who introduced him to contemporary art. The collective of four artists, including Sigmar Polke, organised a "demonstration for capitalist realism" in 1963, which reflected their fascination with and rejection of pop art. The concept of capitalist realism that they developed symbolized their communist past, which was symbolized by the Americanization of Germany at that time. His work Party, from 1962, confirmed his desire to create paintings representing pre-existing images. However, he lacerated the canvas in an iconoclastic fervour, unable to settle for "objective" representation, as compared to his previous works. This heralded his aesthetic program in which abstraction and figuration were no longer seen as opposites, but rather as complementary to one another.
Photography
Richter uses photography because he considers it to be free of any aesthetic notion, as a perfectly objective image. Even if the image is never objective, it still guides his work. With this approach, he submits the pictorial to the photographic, he wants to make painting "photographic". Until 1965, Richter made his work deliberately insignificant by depicting different subjects such as Jackie Kennedy (Frau mit Schirm, 1964) and toilet paper (Klorolle 1965), which in the treatment of his subjects come close to the minimalism that was emerging at that time. He nevertheless betrays his own rule of the image from a second-hand repertoire, since he has also used family photos or photos of his pregnant wife in his paintings.
Unlike Marcel Duchamp, the painter was keen to assert the power and effectiveness of the pictorial medium.
His next stylistic turning point came in 1966 with the creation of his first Farbtafel, a sort of large representation of shades of grey, the series of which embodies an abstract counterpart to his figurative works. These works aspire to the stripping of meaning, to neutrality.
Throughout his career, Richter also tried out a multitude of mediums such as sculpture, stained-glass and installation, making his catalogue one of the richest of the 20th century.
Recognising Richter's signature
Like many artists, Gerhard Richter did not sign all of his works. However, you will find below an example of the signatures to give you an idea. Variations of these signatures do exist, do not hesitate to contact one of our experts to formally authenticate a signature.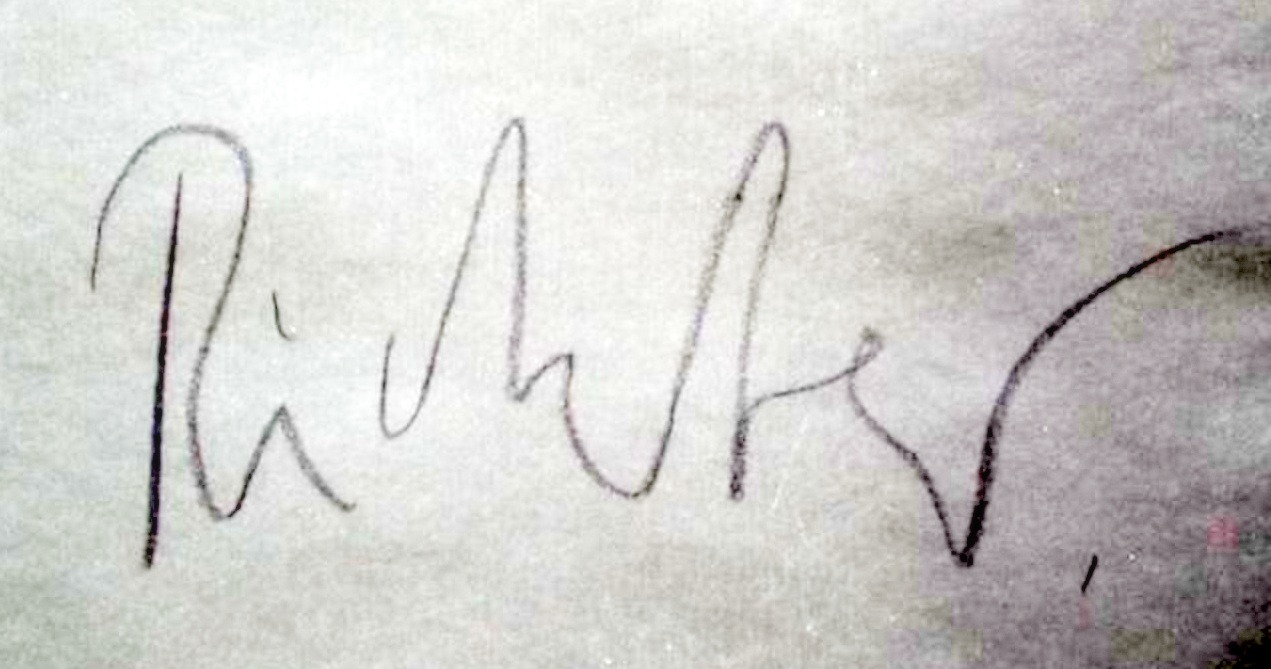 Appraising and selling a piece by Gerhard Richter
If you own a piece by Gerhard Richter or any other object, ask for a free estimate via our online form.
You will then be contacted by a member of our team of experts and auctioneers to give you an independent view of the market price of your piece. In the context of a possible sale, our specialists will also advise you on the different options available to sell your work at the best price.