Any questions?

contact@mr-expert.com
Do you have a piece by Jean Dunand in your possession and would like to know its value? Our Experts will carry out a free appraisal of your piece, provide you with an estimate of the market price, and then help you to sell at the best possible price.
Quote, estimation and price of the artist Jean Dunand
Price of an object: 600 – 90,000 €.
Price of a painting: 1,400 – 910,000 €.
Price of a piece of furniture: 1,100 – 210,000 €.
Estimation of a sculpture: 4,000 – 290,000 €.
Price of a drawing: 180 – 45,000 €.
Estimated cost of a light fitting: 68,000 €.
If you would like to have a work of Jean Dunand appraised, our experts will take care of everything.
Training and first works
Jean Dunand was a French artist of Swiss origin who practised sculpture, copperware, painting and lacquerware. He was born on 20 May 1877 in Lancy, Switzerland, and became a naturalised French citizen in 1922. He died on 7 June 1942 in Paris.
Jean Dunand entered the School of Industrial Arts in Geneva in 1891 and graduated with a scholarship from the city in 1897. He was twice awarded first prize for chiselling and also met wood-engraver François-Louis Schmied and sculptor Carl Angst. In order to perfect his knowledge, he went to Paris to work as a chiseller. He took evening classes in the workshop of sculptor Jean Dampt at the École nationale des arts décoratifs and learnt about copperware. He presented his sculpture Quo Vadis at the Universal Exhibition of 1900 and won the gold medal. He took part in the Salon des Arts Décoratifs in 1903 and a year later presented a stone statue L'éveil at the Salon de la Société des Artistes Décoratifs. In 1905, he exhibited brassware vases at the Salon of the National Society of Fine Arts for the first time. Jean Dunand married Marguerite Moutardier in 1906 with whom he had six children. The painter Ernest Biéler made his portrait with his chiselling and copperware tools in 1909.
Lacquer and copperware
A few years later, he became friends with the Japanese artist Seizo Sugawara who introduced him to lacquerware. In 1913 he presented a bronze Caduceus clock and a Vase with snakes in the salon of the artists decorators. Jean Dunand set up a group with Paul Jouve, François-Louis Schmied and Jean Goulden in 1921, they exhibited at the George Petit Gallery in Paris. Jean Dunand proposes there vases in copperware, but also panels, screens and lacquer furniture. In 1925, four huge vases by Jean Dunand decorate the courtyard of the Pavillon des Métiers d'art at the Exposition des Arts décoratifs. He received numerous commissions in the 1930s to decorate liners such as the SS Atlantic and SS Normandie. Jean Dunand was appointed president of the "lacquer" section of the Paris International Exhibition and decorated the French pavilion at the 1939 International Exhibition in New York. He lost his 22-year-old son in battle in 1940 and took part in the Salon des Tuileries at the Palais de Tokyo in 1941. He died a year later. During his 50-year career, Jean Dunand produced over 1,200 works.
Recognising Jean Dunand's signature
Like many artists, Jean Dunand did not sign all of his works. However, you will find below an example of the signatures to give you an idea. Variations of these signatures do exist, do not hesitate to contact one of our experts to formally authenticate a signature.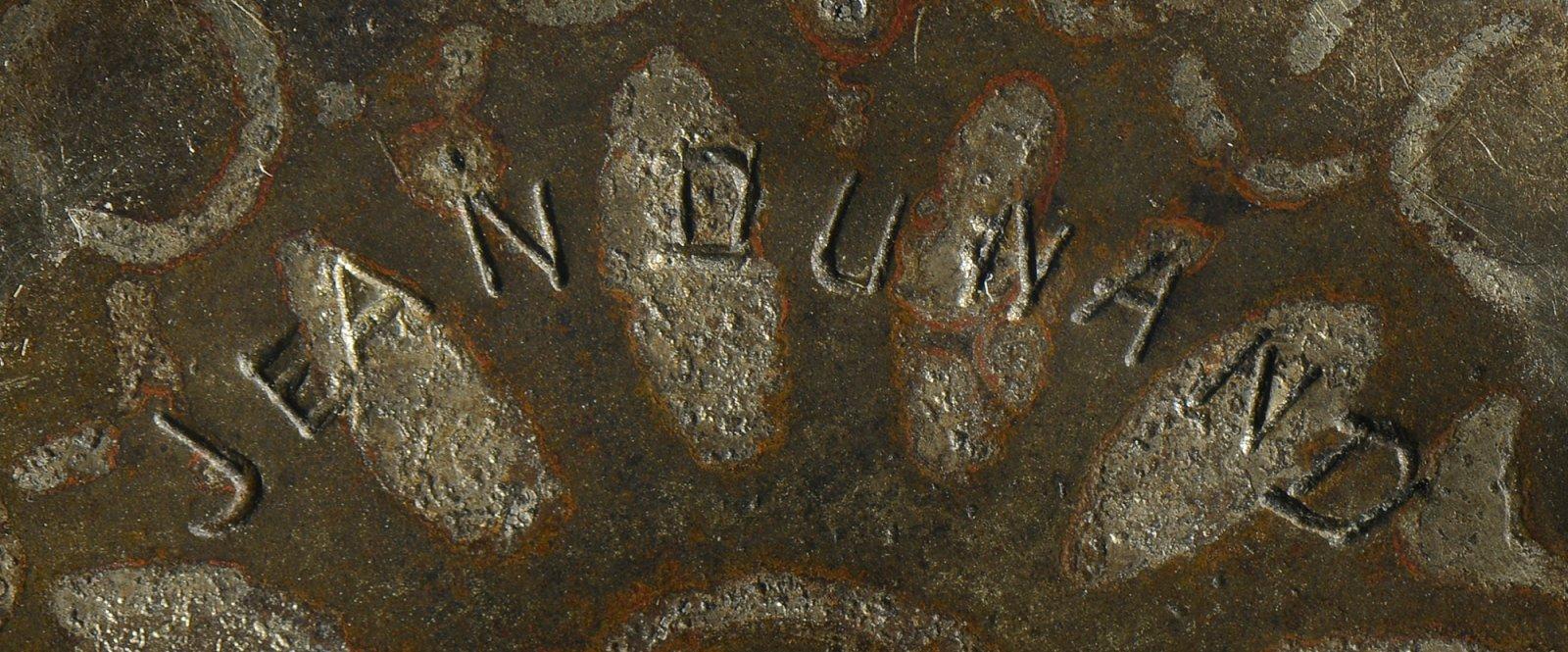 Appraising and selling a piece by Jean Dunand
If you own a piece by Jean Dunand or any other object, ask for a free estimate via our online form.
You will then be contacted by a member of our team of experts and auctioneers to give you an independent view of the market price of your piece. In the context of a possible sale, our specialists will also advise you on the different options available to sell your work at the best price.