Jean Gabriel Domergue
1889 - 1962
Any questions?

contact@mr-expert.com
Do you have a piece by Jean-Gabriel Domergue in your possession and would like to know its value? Our Experts will carry out a free appraisal of your piece, provide you with an estimate of the market price, and then help you to sell at the best possible price.
Quote, price and estimation of the artist Jean-Gabriel Domergue
Price of a painting at auction: 1,500 – 50,000 €
Estimation of a drawing or a watercolour: 100 – 5,000€.
Average estimate for a print: 200 – 6,000€.
If you would like to have a painting signed by JG Domergue estimated, our painting experts are at your disposal for a free appraisal.
Art and fashion by Domergue
Jean-Gabriel Domergue was a French artist born in 1889 who died in 1962. From his childhood he was immersed in the world of art with the help of his father who was a well-known art critic. This culture led him to take an interest in engraving, painting and fashion. He studied at the Beaux-Arts de Paris and was awarded the Prix de Rome in 1911, where he met his future wife Odette Maugendre, they married in 1918. His wife was a sculptor, and they practiced their creative and eclectic processes together. As a couple, they created a villa of decorative art in Cannes, a theatrical venue for sumptuous parties. Jean-Gabriel Domergue lived a worldly existence, dotted with parties and encounters, allowing him to count prestigious actresses and singers among his models.
Passionate about fashion, Domergue designed the clothes of the period in his works and collaborated with contemporary couturiers (reproducing the accessories of couturiers Paul Poiret and Henry Marque). In 1920, he participated in the inauguration of the Salon de la Mode and various events at the Grand Palais in Paris.
Worldly painting
The panel of works by Jean-Gabriel Domergue extends over more than 3000 canvases. His compositions are very marked by the influence of Degas and Toulouse Lautrec (who was his second-cousin). He was also inspired by Cheret and Boldini, notably in his career as a poster artist, he was the author of the first poster for the Cannes Film Festival in 1939.
Despite a very eclectic production (landscapes of Versailles, posters, designer sketches), Jean-Gabriel Domergue's work is often associated with his portraits of women. He was described as a "portraitist of aristocracy" insofar as he provided a pictorial testimony of the morals and fashion of the time (particularly through headwear) by depicting couples in restaurants, in and the social life of the elite in Paris and Cannes.
His favourite subject was women, and he defined himself as "The inventor of the pin-up", situating the Parisian woman as an symbol, and changing the perception of women. In 1920, he proposed a new aesthetic by representing Parisian elegance, the finesse of taste and fashion of the time. The women are slim with long necks, represented in busts, with bright colours to mark a certain graceful casualness. It is a true allegorical representation of the cities and the social lives of Cannes and Paris. However, they should be distinguished from the American pin-up figure, because Domergue's women have a close relationship with the bourgeoisie and are in accordance with the tastes of this elite class.
Recognising Jean-Gabriel Domergue's signature
Like many artists, Domergue did not sign all of his works. However, you will find below an example of the signatures to give you an idea. Variations of these signatures do exist, do not hesitate to contact one of our experts to formally authenticate a signature.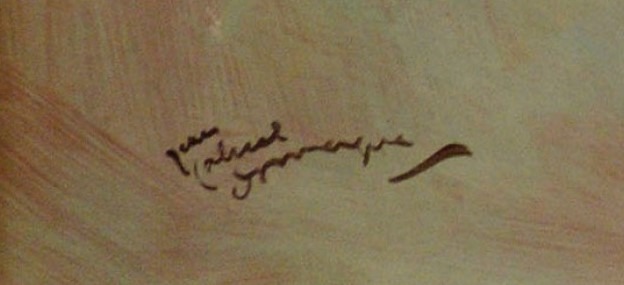 Appraising and selling a piece by Jean-Gabriel Domergue
If you own a piece by Jean-Gabriel Domergue or any other object, ask for a free estimate via our online form.
You will then be contacted by a member of our team of experts and auctioneers to give you an independent view of the market price of your piece. In the context of a possible sale, our specialists will also advise you on the different options available to sell your work at the best price.