Any questions?

contact@mr-expert.com
Do you have a piece by Joan Mitchell in your possession and would like to know its value? Our Experts will carry out a free appraisal of your piece, provide you with an estimate of the market price, and then help you to sell at the best possible price.
Quote, estimate and price by Joan Mitchell
Price of a painting: 120,000 – 7,000,000 €.
Estimation of a print: 1,500 – 10,000 €.
Price of a drawing: 4,500 – 170,000 €.
If you would like to have a work by Joan Mitchell appraised, our experts will take care of everything.
The youth of the artist Joan Mitchell
Joan Mitchell was born on February 12, 1925 in Chicago and died on October 30, 1992 in Paris. She was interested in the visual arts from an early age and went to study at the School of the Art Institute in Chicago. She was also interested in poetry and fell in love with the poet William Wordsworth. She first became familiar with the works of Monet, Cézanne and Manet and turned to artists such as Kandinsky and Matisse.
"Abstract" Impressionism
The construction of her paintings was never totally absent as in "Falded Air I" or the series "La Grande Vallée". Van Gogh will had great influence on her art, especially at the chromatic level, so much so that the motif is left in the background, she will dedicate a series to him on "Tournesols". A certain aggressiveness can be perceived in Joan Mitchell's paintings. It is difficult to attach her to a specific group of artists even if she comes closest to the abstract expressionism of the second generation, her painting was a kind of writing. She developed a system between letters and colours. Her works are often large in size on two panels. In 1951, she exhibited with painters such as Rauschenberg, de Kooning and Motherwell.
In 1955, she moved to France to join her partner Jean-Paul Riopelle. He then moved to Vétheuil, a village near Giverny. She was awarded the Grand Prix de la peinture nationale in 1989. She died in 1992, leaving a considerable body of work behind, which was very little known.
Recognising Mitchell's signature
Like many artists, Joan Mitchell did not sign all of his works. However, you will find below an example of the signatures to give you an idea. Variations of these signatures do exist, do not hesitate to contact one of our experts to formally authenticate a signature.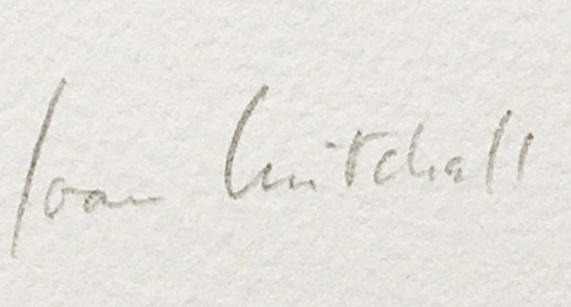 Appraising and selling a piece by Joan Mitchell
If you own a piece by Joan Mitchell or any other object, ask for a free estimate via our online form.
You will then be contacted by a member of our team of experts and auctioneers to give you an independent view of the market price of your piece. In the context of a possible sale, our specialists will also advise you on the different options available to sell your work at the best price.