Any questions?

contact@mr-expert.com
Do you have a piece by Maxime Maufra in your possession and would like to know its value? Our Experts will carry out a free appraisal of your piece, provide you with an estimate of the market price, and then help you to sell at the best possible price.
Quote, estimation and price of the artist Maxime Maufra
Price of a painting: 3,000 – 60,000 €.
Price of a drawing: 175 – 4,000 €.
Price of a print: 80 – 1 500 €.
If you would like to have a work by Maufra appraised, our experts will take care of everything.
Biography of Maxime Maufra, from painting to engraving
Born in Nantes in 1861, Maxime Maufra was introduced to painting in 1879 under the guidance of two local painters: Alfred Leduc and Charles Le Roux. It was during a stay in England that he discovered English landscapes and Turner's painting, which left a lasting impression on him. In 1886, he took part for the first time in the Salon des Artistes Français in Nantes, where he made a name for himself. In 1889, Maufra decided to give up his career in commerce and went to Pont-Aven where he discovered the Impressionist movement and, among other artists, Paul Gauguin. His artistic career then took a new turn: after having criss-crossed Brittany, he settled in a studio in Montmartre. In 1893, Maufra discovered the technique of engraving which he would practice until his final days. In 1916, he went to the front to prepare 20 lithographs on the "War landscapres" which were distributed in 1917. He died in 1918 in Poncé where he painted his last canvas.
Maxime Maufra and post-impressionist painting
Preceding the avant-garde artistic movements of the early 20th century such as symbolism, pointillism or synthetism, post-impressionism (1880-1910) – which counted Maxime Maufra as a member – was not an artistic movement strictly speaking. Rather, it was characterised by a heterogeneous movement of critical thought and a new art form that denounced the limits of Impressionism and paved the way for new artistic movements. Postimpressionism, through the plurality of its representatives, such as Maufra, thus encompasses different artistic styles that are the precursors of movements centred around new aesthetic research, was symbolised by risk-taking, among other things. Having trained at the Pont-Aven School, Maxime Maufra specialised in landscape painting, which oscillated between impressionism and naturalism. However, his synthetic art freed itself from the classical codes of impressionism by its freedom of interpretation of nature and resulted in landscapes with contrasts in light and bright colours.
Main works and estimates by Maxime Maufra
Among Maxime Maufra's most emblematic works are the two paintings exhibited for the first time at the Salon des Artistes Français and which launched his career: "Inondations à Nantes" and "Bateau de pêche en haute île". The Nantes Museum of Fine Arts is also host to " Barque échouée ou Lac étiré en Écosse". (1884), "Brouillard sur la Seine (Les Andelys)", "Côte de Domois (Belle-Île-en-Mer)". Others are exhibited at the Musée des beaux-arts de Quimper such as: "Vue du port de Pont-Aven". (circa 1893-1894), "Crépuscule jaune sur les vasières, Loctudy" (1898). The Musée des beaux-arts de Reims also exhibits some of the artist's paintings: "Soleil couchant (Cadol)", "Féérie nocturne", "La Tempête à Quiberon". While many of the artist's works are on display, many remain unidentified. Also, if you have a painting that you would like to have appraised, ask for an estimate on Maxime Maufra.
Recognising Maxime Maufra's signature
Like many artists, Maxime Maufra did not sign all of his works. However, you will find below an example of the signatures to give you an idea. Variations of these signatures do exist, do not hesitate to contact one of our experts to formally authenticate a signature.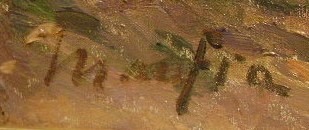 Appraising and selling a piece by Maxime Maufra
If you own a piece by Maxime Maufra or any other object, ask for a free estimate via our online form.
You will then be contacted by a member of our team of experts and auctioneers to give you an independent view of the market price of your piece. In the context of a possible sale, our specialists will also advise you on the different options available to sell your work at the best price.