Any questions?

contact@mr-expert.com
Do you have a piece by Takashi Murakami in your possession and would like to know its value? Our Experts will carry out a free appraisal of your piece, provide you with an estimate of the market price, and then help you to sell at the best possible price.
Quote, estimate and price of the artist Takashi Murakami
Price of a painting by the artist: 1,000 – 1,300,000 €.
Price of a sculpture by the artist: 180 – 2,200,000 €.
Price of an object by the artist: 89 – 25,600 €.
Estimation of a print by the artist: 380 – 3,200 €.
If you would like to have a work by Takashi Murakami appraised, our experts will take care of everything.
Design and production
Takashi Murakami is a Japanese visual artist born on February 1, 1962 in Tokyo. He is considered the successor to Andy Warhol and was ranked 6th in Christie's ranking of the world's most expensive artists.
Takashi Murakami grew up in poverty and after high school, he passed the entrance exam for the Tokyo University of Arts. He then enrolled in their painting course, specialising in nihonga. In 1986, after graduating, Takashi Murakami began a master's degree and then a doctorate. He finished his studies in 1993 and two years later set up the Hiropon Factory production studio. During this time, he exhibited in the United States and Europe. In 2001, Takashi Murakami changed Hiropon Factory to Kaikai Kiki Corporation. The new structure allowed him to produce and sell derivative products, but also to produce young artists, as is the case for Chiho Aoshima.
Japanese sculpture and neo-pop
In 2004, Takashi Murakami worked on a collection with luxury brand Louis Vuitton while making two animated short films. In 2007, he collaborated with American rapper Kanye West on the cover of his album Graduation and directed the video clip Good Morning.
He was named one of the 100 most influential people by Time magazine in 2008. In 2010, he created controversy during his exhibition at the Château de Versailles in the Grands Appartements and the Hall of Mirrors. And in June 2011 Takashi Murakami created a doodle for Google. He is considered the leader of Japanese neo-pop, a.k.a. the Superflat. Takashi Murakami claims the heritage of American pop art and Andy Warhol and is inspired by the imagery of Japanese manga to create his works: sculptures, paintings, wallpapers and beyond. His projects are often set up with helium balloons in exhibition spaces. He makes the link between traditional Japanese art and pop culture.
The Lonesome Cowboy – this is one of Takashi Murakami's most controversial pieces, it depicts a nude, human-sized figure with his sperm spiralling above him. The work is part of his research on fluids and was sold for $13,500,000 at Sotheby's in New York in 2008.
Recognising Takashi Murakami's signature
Like many artists, Murakami did not sign all of his works. However, you will find below an example of the signatures to give you an idea. Variations of these signatures do exist, do not hesitate to contact one of our experts to formally authenticate a signature.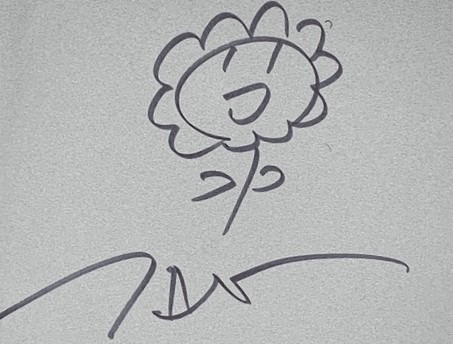 Appraising and selling a piece by Takashi Murakami
If you own a piece by Takashi Murakami or any other object, ask for a free estimate via our online form.
You will then be contacted by a member of our team of experts and auctioneers to give you an independent view of the market price of your piece. In the context of a possible sale, our specialists will also advise you on the different options available to sell your work at the best price.