Camille Pissarro
1830-1903
Any questions?

contact@mr-expert.com
Do you own any Camille Pissarro's artwork? Are you curious to know what they are worth? Our Experts can provide a free appraisal to give you an estimate of the market price, then help you to ensure the best possible price should you decide to sell.
Value, estimation and price of the artist Camille Pissarro
Price of a painting:  30,000 – 21,000,000 €.
Estimation of a drawing: 2,000 – 1,000,000 €.
Estimation of a print: 90 – 17,000 €.
If you would like to have a work by Camille Pissarro appraised, our experts will take care of everything.
Difficult beginnings
Camille Pissarro was born in 1830 in the Danish West Indies to French parents working in the trade. During his studies, his drawing skills did not go unnoticed, but he still returned to work with his parents in the business world. It was during a trip to Venezuela that Pissarro decided to devote himself entirely to painting. He apprenticed mainly with Anton Melbye, brother of Fritz Melbye who travelled with Pissarro, but also Corot, in addition to the drawing schools he attended. He met Monet in 1859 at the Swiss Academy and then Cézanne and de Guillaumin in 1861.
Despite the fact that the artist has regularly exhibited his work at the salon since 1959, Pissarro has struggled to sell his paintings. Most of the landscapes he paints depict the Ile de France and Normandy.
Pissarro and the creation of the Impressionist movement
Pissarro tends to break with the academic tradition by working on large formats of the techniques reserved for open-air sketches, such as large solid-colour plates.
Pissarro became close to Monet, Renoir and Sisley in 1869 when he moved to Louveciennes (Route de Versailles. Louveciennes in the winter sun with snow, around 1869-1870). There he adopted a freer style, with smaller formats, focusing more on the work of colour with the effects of light and atmosphere.
The artist was forced to flee to London with others who would become the Impressionists, from 1870 to 1871. When he returned, Pissarro and his companions broadened their networks in order to organise their first "Impressionist" exhibition in 1874 while trying to bring together as many participants as possible. Pissarro was at that time a patriarchal figure who regularly renewed himself.
At the beginning of the 1880s, the artist turned particularly towards printmaking and developed his style, abandoning the impressionist principles that characterised his work. The painter settled in the vicinity of Pontoise in 1882, then in Éragny sur Epte, which he would only leave until his death in 1903 to travel, notably to Rouen: Le pont Boieldieu à Rouen, temps Brumeux, (1896).
A style in perpetual evolution
Like Degas, Pissarro was not only a painter, unlike many Impressionists, but also attached great importance to drawing. His landscapes, whether interiors or portraits, are particularly precise in their construction, without altering the spontaneity of outdoor painting. Pissarro was therefore attracted to the graphic arts and produced prints, etchings and other lithographs; his prints, however, remained in the private sphere. Pissarro's style evolved with his encounters, such as the one with Cézanne, whom he frequented from 1860 to 1880. Thus he adopted the "pointillist" style in 1885-1890 when he approached Seurat and his practice of divisionism.
Pissarro has constantly renewed his approach to art and the subjects of his performances. The artist represented rural and urban life to a great extent, but his anarchist political views nevertheless demonstrate a pictorial evolution of art in the second half of the 19th century.
Recognising C. Pissarro's signature
Like many artists, Pissarro did not sign all of his works. However, you will find below an example of the signatures to give you an idea. Variations of these signatures do exist, do not hesitate to contact one of our experts to formally authenticate a signature.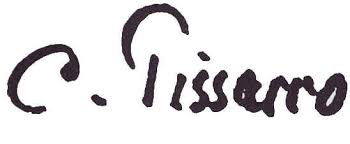 Appraising and selling a Pissarro's artwork
If you own a Camille Pissarro's artwork, use our online form for a free appraisal.
You will then be contacted by a member of our team of experts and auctioneers to give you an independent opinion of the market price. Should you wish to sell your painting or any other artwork, our specialists will also advise you on the various options available for selling at the best price.