Any questions?

contact@mr-expert.com
Do you own any Edgar Degas's artwork? Are you curious to know what they are worth? Our Experts can provide a free appraisal to give you an estimate of the market price, then help you to ensure the best possible price should you decide to sell.
Value, estimation and price of the artist Edgar Degas
Price of a painting:  22,000 – 5,000,000 €.
Estimation of a print: 180 – 190,000 €
Price of a sculpture: 500 – 100,000 €.
Price of a drawing: 2,000 – 3,000,000 €.
Ask one of our experts for an estimate of Edgar Degas paintings.
Training and first travels
Edgar Degas is a French painter, sculptor, engraver and photographer. He is affiliated with the impressionists and naturalists. He was born on 19 July 1834 and died on 27 September 1917 in Paris.
Edgar Degas enrolled in law school in 1853 after his baccalaureate but stopped studying two years later. He studied the works of Rembrandt and Francisco de Goya at the Louvre Museum where he became a copyist. Defying his father, who would not let him become a painter, Edgar Degas moved to an attic in the Latin Quarter. He joined the School of Fine Arts in 1855 and travelled to Rome and Florence from 1856 to 1860 to study the works of Sandro Botticelli and Raphael.
Degas met Édouard Manet in 1862 at the Louvre, then made friends with Pissarro, Monet and Zola at the Café Guerbois in the Montmartre district of Paris.
In 1870, Edgar Degas enlisted in the Franco-Prussian War in the infantry with Manet. A year later he moved to London where he exhibited his work.
Impressionism and blindness
Edgar Degas founded the Anonymous Society of Painters, Sculptors and Printmakers in 1873 alongside his friends Monet, Renoir, Sisley and Pissarro. They organised their first exhibition and the critics called them "the Impressionists". The 1880s marked a turning point in his art, where he worked with watercolour, gouache and pastel. He also recommended Paul Gauguin among the Impressionists.
In 1881, he presented Little Dancer aged Fourteen, which caused a scandal at the Impressionists sixth exhibition.
In 1905, Edgar Degas locked himself away in his studio, becoming increasingly blind and embarrassed by his prostate problems. The Fogg Art Museum in Cambridge devoted a retrospective to him in 1911. Broke and almost deaf, Edgar Degas stopped painting and wandered the streets of Paris.
He died at the age of 83 from a brain aneurysm and was buried in the family vault in Montmartre. His entire collection of works, bought from Manet, Pissarro, La Tour, Ingres and many others, were sold at auction.
Little Dancer aged Fourteen was sold for 22.2 million euros at a Sotheby's auction in London.
Recognising Edgar Degas's signature
Like many artists, Degas did not sign all of his works. However, you will find below an example of the signatures to give you an idea. Variations of these signatures do exist, do not hesitate to contact one of our experts to formally authenticate a signature.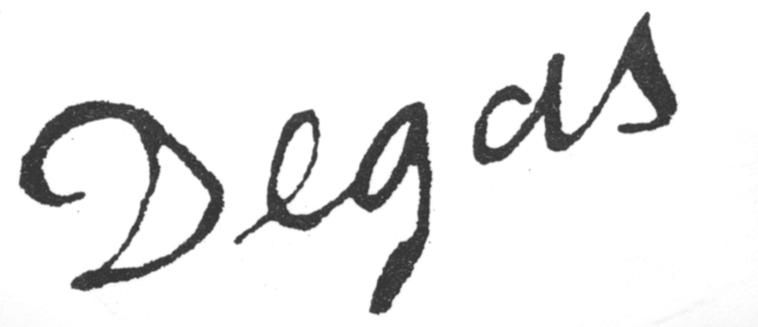 Appraising and selling a Degas's artwork
If you own a Degas's artwork, use our online form for a free appraisal.
You will then be contacted by a member of our team of experts and auctioneers to give you an independent opinion of the market price. Should you wish to sell your painting or any other artwork, our specialists will also advise you on the various options available for selling at the best price.