Jean Baptiste Camille COROT
1796-1875
Any questions?

contact@mr-expert.com
Do you own any Corot's artwork? Are you curious to know what they are worth? Our Experts can provide a free appraisal to give you an estimate of the market price, then help you to ensure the best possible price should you decide to sell.
Quote, price and estimation of the artist Jean-Baptiste-Camille COROT
Price of a painting at auction: 10,000 – 600,000€
Estimation of a drawing or watercolour by the artist: 1,000 – 40,000€.
Average estimate for a Corot print: 50 – 3,000€.
If you would like to have a painting signed by Corot appraised, our painting experts are at your disposal for a free appraisal.
Late recognition of talent and Corot's rating
Jean-Baptiste-Camille Corot was born in 1796 to a milliner mother and a draper father. He did part of his studies in Rouen, even though his father did not accept his wish to become a painter. But he finally got his father to pay him an allowance. He first entered the studio of historical landscape painter Achille-Etna Michallon and began the first part of his career as a travelling landscape painter in Italy. He travelled through the French countryside and worked in his Parisian studio in the winter. Corot founded the Barbizon school, and was one of the first landscape painters to paint in the open air in the forest of Fontainebleau. The forest's trees, tormented by the wind, appear in many of his works.
Public recognition of his talent did not come quickly. Even though he received a medal at the 1833 Salon, it was not until 1847 that he was awarded the Legion of Honour. A devout Catholic, he lived his life on the fringes of society. He is particularly known for having signed works by forgers: it is estimated that he painted 3,000 paintings while 10,000 are in circulation on the market. Episodes of gout force him to stay in his studio, where he created a dreamlike world of landscapes by delving into his travel memories. He died in 1875, one year after the first Impressionist exhibition in which two of his students, Berthe Morisot and Pissarro, were represented.
A painter poet
Théophile Gautier referred to Corot as the "La Fontaine of painting" and Yvon Taillandier considered him the "one of the greatest valorists and one of the most moving intimists of all time". Regarded as the master of values, in his desire for equality of all beings and all things touches by light, Corot created realistic landscapes that refleced his respect for nature. He combined light and shade, softening the contrast with a slightly grey sky and the integration of human figures. Although his landscapes are what he is internationally recognised for, he is a delicate portraitist of female and child figures who silently play witness through their expressions (preferred to the physical realism of his models) to his relationship with childhood and the legacy of Rousseau's texts.
Drawing also played an important role in Corot's creations. Several of his works were done in graphite pencil and charcoal. His meeting with the painter Constant Dutilleux influenced him in that he became interested in the technique of the cliché-verre (a process combining engraving, photography and drawing). From 1850, he reached a certain artistic maturity and dealt with his memories through poetic landscapes.
The works of Corot
The Colosseum seen from the Farnese Gardens at the Palatine, 1826 Canvas, Musée du Louvre, Paris
Chartres Cathedral, 64cm x 51cm, 1830, Musée du Louvre
Bohémienne rêveuse, 1865-1870, Private Collection
Diana bathing, 1873-1874, Pushkin Museum Paris
The Mantes Bridge, 1868-1870, Musée du Louvre, Paris Mon Agard, graphite, Musée du Louvre, Paris
Recognising Corot's signature
Like many artists, Corot did not sign all of his works. However, you will find below an example of the signatures to give you an idea. Variations of these signatures do exist, do not hesitate to contact one of our experts to formally authenticate a signature.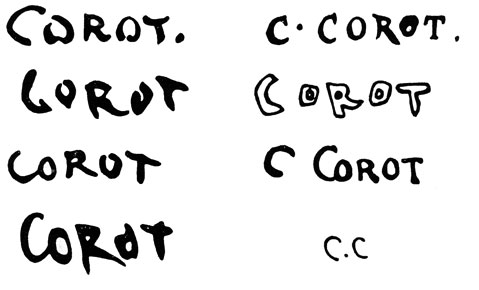 Appraising and selling a Corot's artwork
If you own a Jean-Baptiste-Camille COROT's artwork, use our online form for a free appraisal.
You will then be contacted by a member of our team of experts and auctioneers to give you an independent opinion of the market price. Should you wish to sell your painting or any other artwork, our specialists will also advise you on the various options available for selling at the best price.