Any questions?

contact@mr-expert.com
Do you have a piece by Miquel Barcelo in your possession and would like to know its value? Our Experts will carry out a free appraisal of your piece, provide you with an estimate of the market price, and then help you to sell at the best possible price.
Status, estimation and price of the artist Miquel Barcelo
Price of a painting: 8,000 – 2,800,000 €.
Estimated value of a drawing: 5,000 – 161,000 €.
Estimation of a print: 60 – 7,000 €.
Estimation of a sculpture: 800 – 60,000 €.
If you would like to have a work by Miquel Barcelo appraised, our experts will take care of everything.
Miquel Barcelo's debut
Miquel Barcelo is a Mallorcan Spanish artist categorised as a 'neo-expressionist'. He was born on the 8th of January 1957 on the Spanish island of Mallorca. His mother was a landscape painter and introduced him to painting at an early age. In 1973, he graduated from the Palma de Mallorca School of Fine Arts, and soon after made his first trip to Paris. There he discovered artists like Jean Dubuffet, who were his first sources of inspiration.
Miquel Barcelo an artist in search of inspiration
In 1974 he held his first solo exhibition in Palma de Mallorca and later began training at the Barcelona School of Fine Arts, studies which he never completed. In 1975 he took part in political movements against Franco's government and later in ecological demonstrations. In 1977 he held an exhibition in Barcelona. This was the starting point for a new artistic technique, as he began to integrate organic matter into his works.
During his second trip to Paris in 1978, Barcelo became more interested in the American Abstract Expressionists. In 1980, he moved to Barcelona. This period marked a change in his style, as he returned to figurative painting, which would gradually become more classical. He gave his work a more international aspect. He began to exhibit his work in the south of France. There he met many artistic personalities such as Jean-Michel Basquiat. In 1982, he entered the permanent collections of an important museum in Bordeaux. The following year he was exhibited at the French gallery Yvon Lambert and moved to Paris. Andy Warhol painted his portrait. The artist travelled a lot and continued to organise solo exhibitions in different countries. One of them was held in the United States and celebrated him as a true Spanish contemporary artist.
The consecration of Miquel Barcelo as a major contemporary artist
In 1985, the famous New York gallery owner of modern and contemporary art, Leo Castelli, gave Barcello's work a worldwide reputation on the contemporary art market. The artist began working on transparency. At the age of 30, he is awarded the prestigious Spanish National Plastic Arts Prize.
In 1988 he made his first trip to Africa. A true discovery and initiatory journey, he returned several times. He sketched landscapes or painted them in watercolour for months. From 1992, he lived between Paris, Majorca and Mali.
He discovers the technique of ceramics in Africa and his work is once again exhibited at Castelli. In 1996, the artist had his work institutionalised, as it was exhibited at the Musée national d'art moderne de la ville de Paris and at the Galerie nationale du Jeu de Paume. Then it was the turn of the Barcelona Museum of Contemporary Art to celebrate him even more widely. His work took on a more monumental dimension when he began to produce very large-format ceramics with imposing reliefs. Barcelo also received state commissions, such as for the decoration of one of the chapels of the Cathedral of Palma de Mallorca.
Recognising Miquel Barcelo's signature
Like many artists, Barcelo did not sign all of his works. However, you will find below an example of the signatures to give you an idea. Variations of these signatures do exist, do not hesitate to contact one of our experts to formally authenticate a signature.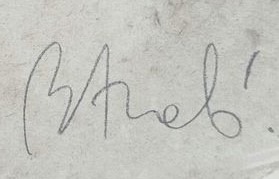 Appraising and selling a piece by Miquel Barcelo
If you own a piece by Miquel Barcelo or any other object, ask for a free estimate via our online form.
You will then be contacted by a member of our team of experts and auctioneers to give you an independent view of the market price of your piece. In the context of a possible sale, our specialists will also advise you on the different options available to sell your work at the best price.