Any questions?

contact@mr-expert.com
Do you have a piece by René Lalique in your possession and would like to know its value? Our Experts will carry out a free appraisal of your piece, provide you with an estimate of the market price, and then help you to sell at the best possible price.
Status, estimation and price of the artist René Lalique
Price of an object by the artist: 200 – 10,000 €.
Price of a sculpture by the artist: 300 – 2,000 €.
Estimation of an artist's light fitting: 800 – 8,000 €
Estimation of a drawing by the artist: 600 – 1 500 €.
If you would like to have a work by René Lalique appraised, our experts will take care of everything.
René Lalique and Art Nouveau
René Lalique was a master French glassmaker and jeweller born on April 6, 1860, and he died on May 1, 1945. He is known for his perfume bottles, candleholders, vases, clocks and jewellery.
At a very young age, when still in high school, Lalique won a design competition. This was a true revelation for him. At the age of 16, he began an apprenticeship with a Parisian jeweller, Louis Aucoc, and then left for London to study at Sydenham Art College. He returned to France, where he worked for great names such as Cartier and Boucheron.
In 1885 he launched his own jewellery shop on Place Vendôme in Paris, and his counter at the 1900 Universal Exhibition in Paris was a real success.
Lalique proved to be one of France's most influential Art Nouveau jewellery designers, with a focus on animals and plants. However, he used materials that were still rarely used at that time, such as glass, leather, mother-of-pearl, enamel and precious stones.
An extraordinary master glassmaker
In 1910, Lalique started creating glass perfume bottles for the Antique Amber bottle of perfumer François Coty.
In 1921, he set up a glass factory in Alsace. His creations were noticed and René Lalique was asked to work on several major projects such as the interior decoration of several luxury ocean liners including the SS Normandie and the SS De Grasse. But that's not all, he also decorated luxury trains including the famous Orient Express.
Lalique also made the stained glass windows, the communion table and the all-glass altar for the Saint-Niçaise Church in Reims.
In 1945, he was buried in Paris' Père-Lachaise cemetery.
Sotheby's sold the Macallan in Lalique Legacy Collection for $993,000 in April 2017 in Hong Kong. The sale included a set of six crystal decanters containing Macallan single malts ranging in age from 50 to 60 years old. The decanters are part of an exclusive collection resulting from the collaboration between René Lalique and Macallan. For the occasion, Lalique created a unique piece of ebony wood furniture that could accommodate the Six Pillars collection as well as six pairs of Lalique glasses and six miniatures from Macallan's "Fine and Rare" collection.
Recognising René Lalique's signature
Like many artists, Lalique did not sign all of his works. However, you will find below an example of the signatures to give you an idea. Variations of these signatures do exist, do not hesitate to contact one of our experts to formally authenticate a signature.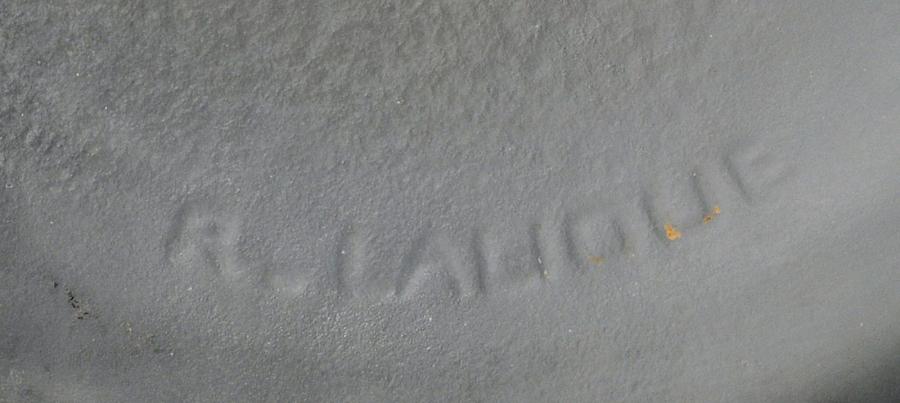 Appraising and selling a piece by René Lalique
If you own a piece by René Lalique or any other object, ask for a free estimate via our online form.
You will then be contacted by a member of our team of experts and auctioneers to give you an independent view of the market price of your piece. In the context of a possible sale, our specialists will also advise you on the different options available to sell your work at the best price.