Tamara De Lempicka
1898-1980
Any questions?

contact@mr-expert.com
Do you have a piece by Tamara de Lempicka in your possession and would like to know its value? Our Experts will carry out a free appraisal of your piece, provide you with an estimate of the market price, and then help you to sell at the best possible price.
Status, estimation and price of the artist of Tamara de Lempicka
Price of a painting: 18 700 – 6 800,000 €.
Price of a drawing: 3,000 – 20,000 €.
Estimation of a print: 250 – 30,000 €.
If you would like to have a work by Tamara de Lempicka appraised, our experts will take care of everything.
Tamara de Lempicka's youth
Tamara Gorska, her birth name, was born on May 16, 1898, in Warsaw, Poland. Coming from a well-to-do background, she moved to St Petersburg in 1914 to live with one of her aunts. There she began her first painting lessons and fell in love with the lawyer Tadeusz Lempicki, who she married in 1916.
A socialite with a Cubist style…
During the October revolution, she left to join her husband in Copenhagen and ended up settling in Paris. In the midst of losing their bearings, the couple separated. Unlike her husband, she decided to work and began to paint. Thus, she went to the large thatched cottage in 1920 and continued her training with Maurice Denis and André Lhote. She completed her training by travelling in Italy. De Lempicka exhibited for the first time at the Salon d'Automne in 1922. Through the influence of the Pontormo statues she drew in Italy, her style was sculptural, cubist and used bold colours. She went to the parties of the famous couturier Paul Poiret and spoke with Braques and Gide at La Rotonde and Le Dôme. Her bohemian life inspired her painting in which the characters were often naked. In her Perspective painting from 1923, she painted women surprised in a moment of lasciviousness. This contributed to her boyish image.
Moving towards a Mannerist style and an international reputation
De Lempicka also did commissioned portraits. Most of her models come from the social and artistic society of the time. Tsar Nicholas II even sat for her. She had great success in Italy. Her attraction for sometimes-exaggerated proportions earned her the name "Perverse Ingres". Moving away from synthetic Cubism, her paintings acquired a monumentality and a mannerism that showed a penchant for the Italian masters of the Renaissance. She divorced in 1928 and then travelled to the United States where she exhibited her paintings, enjoying international fame and recognition.
In 1933, she married Baron Raoul Kuffner who was one of her biggest clients. She returned to the comfort of her life in St. Petersburg and at the same time distanced herself from the artistic lifestyle of Paris. Her subjects widened to all bodies and were a great success in the United States, particularly in the world of cinema. She and her husband moved to the US in 1939, because of the war.
She continued to paint, but her work eventually fell into oblivion until it was rediscovered in a monograph devoted to her in 1957. Her popularity was at its height in the 1970s thanks to the strong craze for Art Deco.
De Lempicka died in Mexico in 1980.
Recognising Tamara de Lempicka's signature
Like many artists, Tamara de Lempicka did not sign all of his works. However, you will find below an example of the signatures to give you an idea. Variations of these signatures do exist, do not hesitate to contact one of our experts to formally authenticate a signature.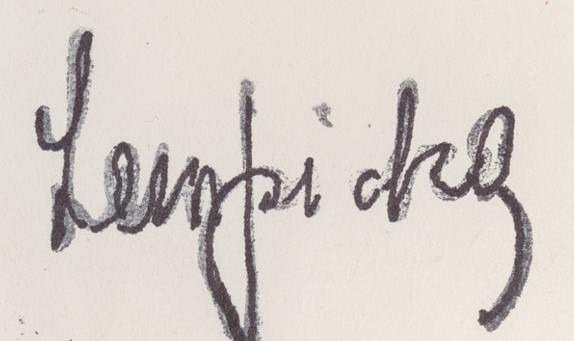 Appraising and selling a piece by Tamara de Lempicka
If you own a piece by Tamara de Lempicka or any other object, ask for a free estimate via our online form.
You will then be contacted by a member of our team of experts and auctioneers to give you an independent view of the market price of your piece. In the context of a possible sale, our specialists will also advise you on the different options available to sell your work at the best price.