Any questions?

contact@mr-expert.com
Do you have a piece by Georges Seurat in your possession and would like to know its value? Our Experts will carry out a free appraisal of your piece, provide you with an estimate of the market price, and then help you to sell at the best possible price.
Status, estimation and price of the artist Georges Seurat
Price of a painting: 130,000 – 25 200,000 €.
Price of a drawing by the artist: 2,000 – 9,000,000 €.
Estimation of a print: 30 – 28,000 €.
If you would like to have a work by Georges Seurat appraised, our experts will take care of everything.
Training and first works by Georges Seurat
Georges Seurat was a French painter and drawer born on 2 December 1859. He died on 29 March 1891 in Paris. He is the inventor of the divisionist technique, known as pointillism. He is one of the four great painters of post-impressionism along with Cézanne, Van Gogh and Gauguin.
Born into a bourgeois family, Georges Seurat learned the basics of painting from his uncle, a canvas merchant. He began drawing at a very young age and took classes at the École des Beaux-Arts in Paris in 1876 and entered the painting department a year later. His works were not exceptional and did not stand out, but he turned out to be a brilliant drawer. In 1979, he did his military service in Brest and during this year he sketched boats, the sea and the beach. He started painting in 1882 and worked on his mastery of white and black.
Georges Seurat invented the technique of pointillism and in 1884 he finished A Bath at Asnières, which he proposed to the fourth Impressionist exhibition, but which was refused. The painter exhibits his painting at the first Salon des artistes indépendants in the company of Paul Signac, Camille Pissarro and Maximilien Luce. The critic Félix Fénéon supported Georges Seurat and his work and was the first to name the new school of Neo-Impressionism in the Belgian magazine L'Art Moderne in 1887.
The end of Impressionism
Seurat presented Un dimanche après-midi à l'île de la Jatte at the eighth and final Impressionist exhibition. He attended with Paul Signac. Their presence, as imposed by Pissarro, cause some painters like Monet, Sisley and Caillebotte to be upset, as they did not want to exhibit with non-Impressionist painters such as Gauguin, Seurat and Signac.
Seurat lived and worked in Gravelines (in the Hauts-de-France) during the summer of 1890 and painted four canvases of seascapes as well as some drawings and sketches. He returned to Paris and started working on his project for the painting Le Cirque to be presented at the eighth Salon des indépendants. During the time of the exhibition, he died of diptheria, at the age of 31. His family asked Fénéon, Signac and Luce to make an inventory of his studio. Ten years after his death, Fénéon, Signac and a pupil of Seurat's, Lucie Couturier, organised a large exhibition to sell Seurat's works. More than 300 paintings were sold and his three most important works were bought by his friends: La Grande Jatte for Couturier, Le Cirque for Signac and La Baignade for Fénéon. Camille Pissarro bought about ten drawings for the Musée du Luxembourg.
A Seurat pencil and gouache drawing Au divan japonais was sold for €4.99 million at Sotheby's in Paris in December 2008.
Recognising Georges Seurat's signature
Like many artists, Seurat did not sign all of his works. However, you will find below an example of the signatures to give you an idea. Variations of these signatures do exist, do not hesitate to contact one of our experts to formally authenticate a signature.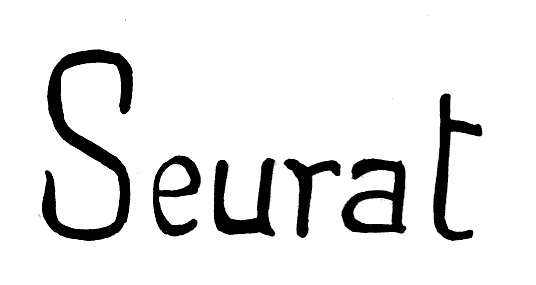 Appraising and selling a piece by Georges Seurat
If you own a piece by Georges Seurat or any other object, ask for a free estimate via our online form.
You will then be contacted by a member of our team of experts and auctioneers to give you an independent view of the market price of your piece. In the context of a possible sale, our specialists will also advise you on the different options available to sell your work at the best price.