Any questions?

contact@mr-expert.com
Do you have a piece by James Ensor in your possession and would like to know its value? Our Experts will carry out a free appraisal of your piece, provide you with an estimate of the market price, and then help you to sell at the best possible price.
Quote, estimation and price of the artist James Ensor
Price of a painting: 11,000 – 6 400,000 €.
Price of a drawing: 1,800 – 155,000 €.
Estimation of a print: 40 – 40,000 €.
Price of a photograph: 90 – 500 €.
If you would like to have a James Ensor work appraised, our experts will take care of everything.
James Ensor's beginnings
James Ensor was born in 1860 in the Belgian city of Ostend to an English, bourgeois and cultured father and a Flemish mother. His family owned a shop full of shells and curious objects that influenced his paintings, loading them with motifs in a mysterious sense. His rather precocious talent was praised, but also quite controversial. As early as 1881 he exhibited in Brussels, which was at the time a literary and artistic centre open to new ideas. He took part in the foundation of the "Groupe des XX" which later exhibited Gauguin and Cézanne, among others.
A beginning that divided critics
The intellectual elite criticised Ensor's work as a daring mixture of nightmares and buffoonery à la Goya. Neo-impressionism being in full bloom at the time did not help his situation. It was at this point that Ensor became anxious and aggressive. A special1899  issue of the magazine La Plume, written by great writers of the time, came to his rescue. After the war, Antwerp patrons of the arts also set up a room dedicated to him in their city museum.
Everything changed when Ensor became a baron in 1929 and thus a somewhat more serene old man than before.
Work more united than it seems
Esnor's work is often divided into two eras – a darker period from 1879 to 1882 and a lighter, more unrealistic and fanciful period peaking from 1887 to 1893. In reality, these periods overlap. After studying for three years at the Brussels Academy, he painted with pure colours and solid forms with palette and knife. But he also sometimes chose lighter colours, and softer shapes. He depicted biblical scenes when he was at the academy, that were already saturated with fantasy.
Later, His style borrowed more from Goya and Turner (The Oyster Eater 1883). A lighter canvas such as The Afternoon in Ostend (1881) mixes light and shadow and gives the painting an impressionistic atmosphere. From 1886 onwards, however, the light changed from an objectivising support of reality to the essential substance of his work, blurring the lines between dreamlike and real, becoming subjective, unlike the French painters of the time. It is said of his work that it sometimes borders on tachism (La Chute des anges rebelles, 1889). At the end of his career, Esnor's hand became a little heavier, though he maintained a bold palette.
James Eros and Thanatos
Esnor addresses a number of themes in his work, but the angle of symbolism allows us to better understand them: the self-portrait, the mask, Christ the skeleton, mixing historical significance with the subjectivity of the painter. Eros and Thanatos, and the question of sex and death, frame all his work. He also depicts numerous paintings with satirical and fanciful subjects. At the end of his career, he contributed to the music and the sets of the opera-ballet Gamme d'amour. He also produced engravings throughout his career.
Recognising James Ensor's signature
Like many artists, Ensor did not sign all of his works. However, you will find below an example of the signatures to give you an idea. Variations of these signatures do exist, do not hesitate to contact one of our experts to formally authenticate a signature.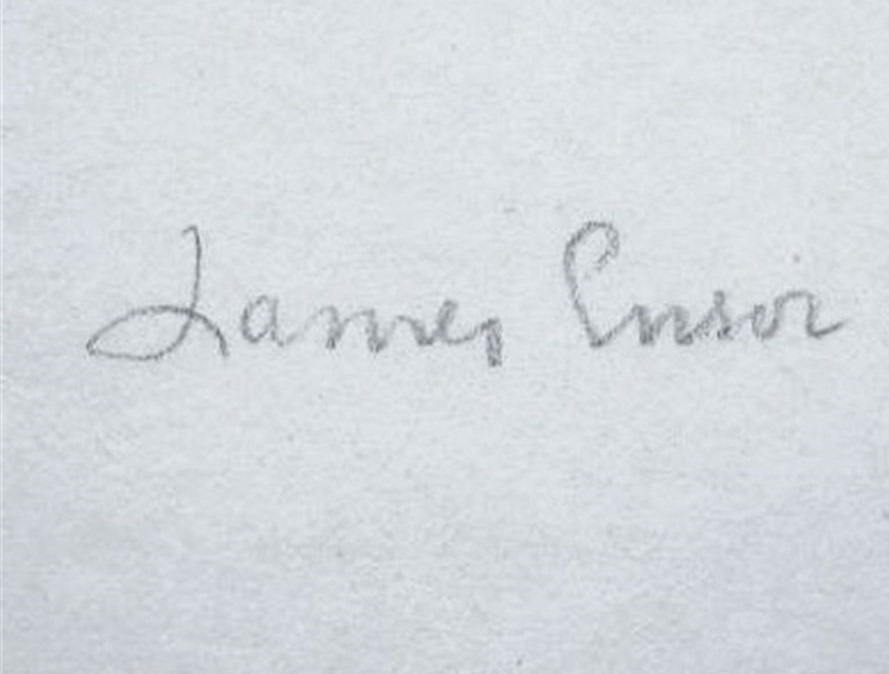 Appraising and selling a piece by James Ensor
If you own a piece by James Ensor or any other object, ask for a free estimate via our online form.
You will then be contacted by a member of our team of experts and auctioneers to give you an independent view of the market price of your piece. In the context of a possible sale, our specialists will also advise you on the different options available to sell your work at the best price.