John Singer Sargent
1856-1925
Any questions?

contact@mr-expert.com
Do you have a piece by John Singer Sargent in your possession and would like to know its value? Our Experts will carry out a free appraisal of your piece, provide you with an estimate of the market price, and then help you to sell at the best possible price.
Quote, Estimation and Price for the artist John Singer Sargent
Price of a painting by the artist: 36,400 – 6 700,000 €.
Price of a drawing by the artist: 1,900 – 510,000 €.
Estimation of an artist's lamp: 210 – 4,300 €.
If you would like to have a John Singer Sargent painting appraised, our experts will take care of everything.
A promising start
John Singer Sargent is an American painter who lived mainly in Europe. He was born on 12 January 1856 in Florence, Tuscany and died on 14 April 1925 in London.
John Singer Sargent was not interested in schooling and from an early age he was encouraged by his mother to draw with the help of notebooks and other materials. At the age of 13, he took watercolour lessons with the German landscape painter Carl Welsh. At 17, John Singer Sargent became a literate young man who spoke fluent French, Italian and German.
He began his art studies at the Academy of Florence and then studied at the Ecole des Beaux-Arts in Paris, where he was taught by Léon Bonnat, Adolphe Yvon and Carolus-Duran from 1874 to 1878. He befriended the great artists of the time, including Claude Monet, Paul Helleu, Edgar Degas and Edmund Gosse. John Singer Sargent spent his time painting in museums and in his studio which he shared with his friend, painter James Carroll Beckwith. John Singer Sargent is best known for his skill in portraiture and received commissions from some of the most famous men and women. This is the case for Édouard Pailleron, of the Académie Française, and his wife, as well as Auguste Rodin  and John D. Rockefeller. He also painted portraits of American presidents Theodore Roosevelt and Woodrow Wilson.
A rapid rise to fame
Throughout his career, John Singer Sargent painted approximately 900 canvases and over 2000 watercolours, sketches and drawings. The painter has travelled extensively and his works document these journeys: from Venice to the Tyrol, from Corfu to the Middle East and from Montana to Florida. Very close to the movement of American impressionism, John Singer Sargent painted religious compositions, portraits, interiors, landscapes and seascapes. He also used different paints such as gouache and watercolour.
In 1879 John Singer Sargent painted the portrait of his master Carolus-Duran and exhibited it at the Paris Salon in homage to his teacher. The painter then left Paris to visit Spain where he studied the paintings of Velásquez. Having become famous, John Singer Sargent set the prices of his paintings himself and even allowed himself to refuse clients if he considered them to be difficult. In 1884, he painted Madame X, his favourite painting, which was not well received by French critics.  He then moved to London. He ended up selling the painting to the Metropolitan Museum of Art in New York in 1916, upon the death of the model of the portrait: Madame Gautreau.
Once settled in London, John Singer Sargent mainly painted landscapes of the English countryside. He visited Claude Monet in Giverny and painted his most impressionistic portrait of Monet painting in the open air with his new wife. John Singer Sargent's first great success at the Royal Academy was in 1887 with his outdoor painting Carnation, Lily, Lily, Rose which was immediately purchased by the Tate Gallery in London. He declined the knighthood award, preferring to remain an American citizen.
Recognising John S. Sargent's signature
Like many artists, John Singer Sargent did not sign all of his works. However, you will find below an example of the signatures to give you an idea. Variations of these signatures do exist, do not hesitate to contact one of our experts to formally authenticate a signature.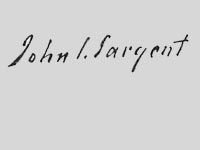 Appraising and selling a piece by John Singer Sargent
If you own a piece by John Singer Sargent or any other object, ask for a free estimate via our online form.
You will then be contacted by a member of our team of experts and auctioneers to give you an independent view of the market price of your piece. In the context of a possible sale, our specialists will also advise you on the different options available to sell your work at the best price.