Maria Elena Vieira Da Silva
1908-1992
Any questions?

contact@mr-expert.com
Do you have a piece by Vieira Da Silva in your possession and would like to know its value? Our Experts will carry out a free appraisal of your piece, provide you with an estimate of the market price, and then help you to sell at the best possible price.
Quote, price and estimation of the artist Maria Elena Vieira Da Silva
Price of a painting: 7,500 – 1 900,000 €.
Estimate of a drawing: 600 – 98 900 €.
Estimate of a print: 25 – 2 400
Price of a ceramic: 550 – 13,000 €.
Price of a tapestry: 6,000 – 21,000 €.
If you would like to have a work by Maria Elena Vieira Da Silva appraised, our experts will take care of everything.
The youth of Maria Elena Vieira Da Silva
Vieira Da Silva's artistic career was greatly influenced by the environment from her youth. Lisbon's unique architecture with its tangled multistoried houses inspired and influenced her work and life. Moreover, Vieira da Silva's family had predestined her to become an artist.
A style beyond the fashion of the time
Meeting Bissière was a defining point in her development when she met him in Paris in 1932, after having tried her hand at sculpture alongside Despiau and Bourdelle.
She found the style that followed her until the end of her career in the late 1940s, a period which was then very conducive to lyrical abstraction, far from the fashions and pictorial language of the time.
Her practice was still marked by surrealism when she created L'Atelier in 1940 and La partie d'échecs in 1943. In the room depicted, the enclosed dimension of the room is accentuated by a multitude of small squares all over the canvas which do not seem to be governed by any laws of perspective. This damage representation intervenes almost systematically in Vieira da Silva's works and gives rise to a poetic ambiguity which makes identifying the scenes represented difficult (La bibliothèque 1966, Les indes noires 1974, La Gare Saint – Lazare 1949).
The aesthetics of cubes and disturbed perspectives brings together the perception of her canvases and acquires all its expressiveness thanks to how she plays with rules of optics, oblique lines, both horizontal and vertical. Unlike the very in vogue gestural art in the 1950s, carried by artists such as Henri Mathieu and Jackson Pollock and his dripping, Vieira Da Silva's canvases are the fruit of a slow work of analysis and reflection.
A shape-shifting artist
Vieira da Silva also made tapestries and stained-glass windows, as well as compositions on paper where she lent herself to the art of Indian ink on top of the subtleties of tempera and charcoal drawing.
In the last ten years of her career, she allowed light to burst into her work. White occupied a predominant place in her works, stretching space towards something immaterial (Vers la Lumière 1991).
During this same decade, she benefited from a foundation (the Arpad Szenes-Vieira da Silva Foundation in Lisbon) which has been exhibiting her works since 1930.
Recognising Vieira Da Silva's signature
Like many artists, Vieira Da Silva did not sign all of his works. However, you will find below an example of the signatures to give you an idea. Variations of these signatures do exist, do not hesitate to contact one of our experts to formally authenticate a signature.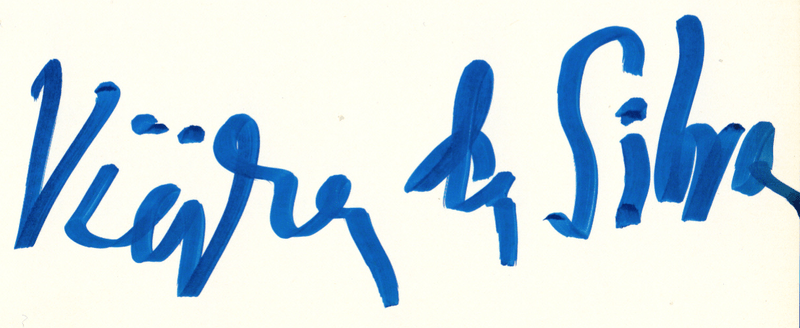 Appraising and selling a piece by Vieira Da Silva
If you own a piece by Vieira Da Silva or any other object, ask for a free estimate via our online form.
You will then be contacted by a member of our team of experts and auctioneers to give you an independent view of the market price of your piece. In the context of a possible sale, our specialists will also advise you on the different options available to sell your work at the best price.